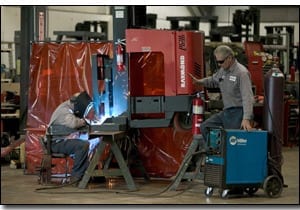 November 24, 2014 –
Which is better, Scheduled Maintenance or a Guaranteed Maintenance Program? The answer isn't as simple as you might think. Each program satisfies certain requirements. I've been managing these service programs for longer than I care to mention. I'm sure many of you have chosen your preferred program and have stuck with it. Have you investigated the other program to see if it's a better fit for your business? Well, let me peak your interest by providing a basic comparison.
A Guaranteed Maintenance Program (GMP) usually includes all parts and labor needed to keep the equipment in good operating condition. It is a fixed cost per month and guaranteed over the term- often 5 years or more.
Scheduled Maintenance (SM) includes labor, sometimes chemicals such as grease and cleaners, to perform a cleaning and inspection of the equipment. This is a requirement according to OSHA and required by the truck manufacturer. It's like an oil change and lube job on your car. It does not include any repairs, they are usually added on a Time and Material basis.
I'll assume you don't want to be in the forklift maintenance business. I'll also assume you don't employ your own technicians. If both are true, you will probably choose one of the two maintenance options. Like I said, each maintenance program satisfies certain requirements and any program can be customized to your needs. Although most companies simply choose one or the other, there is no reason why you can't use both.
Which of these programs do you use and why?