May 28, 2019 –
Automation. Automation. Automation. That's all you hear about these days, and for good reason!  As the economy continues to roar, businesses find themselves dealing with three familiar growth challenges.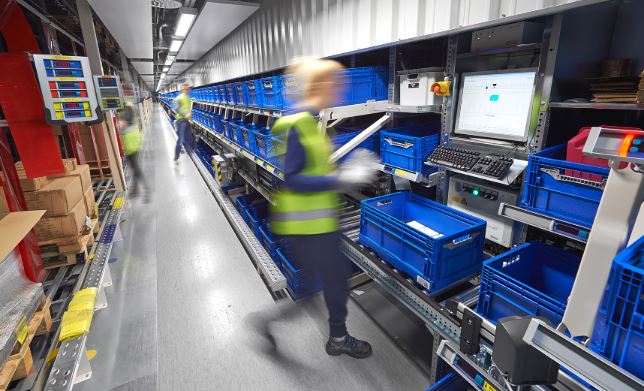 Not enough space.
The need for qualified workers.
Increased order demand.
As business operators work to address these challenges, they are increasingly encountering and embracing new concepts and technology. This seems to be a common theme in our daily lives as well, so be sure you're staying up with the times at work, too.
Materials in Motion
A decade ago, we almost always traveled to the store or local business to get our goods and services. Today,
many of those services come to us. The most common and easily understood example is Amazon. You see something online and two days later it's at your doorstep. Groceries now get delivered to your home. Broken windshield, no problem. We will come to your office and fix it.
In the warehouse and on the manufacturing floor, it's the same story. Workers used to take a paper pick list and walk the aisles to find the part or product on the shelf and bring it back to a central location. Today's order fulfillment and storage systems bring the part directly to the worker. Large automated storage and retrieval systems (ASRS) have been around for decades in large warehouse operations to increase storage density and save labor, and these days can produce very high throughput as well, but the cost can be upwards of a million dollars an aisle.
Bridging the Gap
The good news is there are many new and more affordable goods to picker systems for the small- and medium-sized operations today that can effectively address the three issues listed above. Here are two examples of goods to person systems that cost less than $150,000 with the associated benefits.
Vertical Lift Module (Shuttle VLM) and Vertical Carousels
Up to 50% space savings by more efficiently storing product and using the vertical space available.
Great flexibility for changing product mix, size and weights.
Parts and/or products are always delivered to the worker at an ergonomically beneficial height.
When used in pods of multiple machines, they dramatically increase picking productivity since the second or third machine is retrieving the next pick while the worker completes the current pick.
When used with software to drive batching and efficient parts delivery, productivity increases exponentially.
Pick to light technology reduces the need for experienced warehouse order pickers in addition to the startup time and cost for hiring new workers.
Automated systems attract employees to forward thinking companies utilizing modern technology.
Automate the Picking Process with a Push of a Button
I could sum up this blog in one simple sentence, "Why go get it when you can have it brought to you?" Your labor hours are just as important to your business as your personal time is to you at home. If you're interested in learning more about streamlining your picking process and increasing space and productivity, contact your local storage solutions provider today.