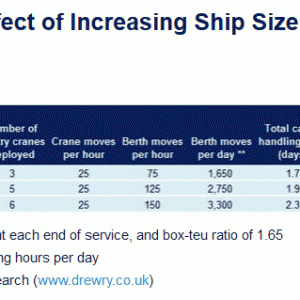 Click here to view original web page at www.scdigest.com
From SCDigest's On-Target e-Magazine
The Key Question: Who will Pay for Revolutionary Container Handling Technology?
SCDigest Editorial Staff
As container ships continue to grow in size, the lack of proportionate improvement in port handling technologies and processes means ships are spending longer and longer times in port. Importers in turn are on average weighting much longer to receive their containers.
Ship capacities reached a new benchmark in early 2011 with the announcement from Maersk that it was ordering a series of new "Triple E" vessels capable of carrying some 18,000 TEU. Since then, the numbers have been creeping up a bit, with the new Oscar ship from MSC now tipping the scales at some 19,200 TEU.
SCDigest Says:
Just recently, Maersk Line's CEO Soren Skou called for a "leap frogging move" to raise port productivity levels to address the growing issue of port throughout.
While these mega-mega ships (in comparison to the 13,000 TEU vessels that once earned the "mega' designation) promise to deliver significant efficiencies in operating costs per TEU versus the previous generation ships, they are causing issues at the ports in Europe and Asia able to handle them (no North American ports are currently able to dock the Triple E's or similarly sized ships).
Unloading efficiency cannot keep pace with the growth in containers per ship. In European ports, for example, a 19,000 TEU vessel is nearly 50% bigger than the 13,000 TEU vessels they are supplanting, but the berth moves per day is only 20% higher. That means ship time spent in port per round voyage has increased 50% from 12 to 18 days, such that last importers to get their boxes are waiting now that much longer, and the carriers ships are tied up in port rather than making money sailing the seas.
The most basic issue: the new giant ships are not just getting longer but wider and higher. This means the number of gantry cranes deployed per ship cannot rise proportionately to the increase in the number of containers. For example, the length of the 18,300-TEU Maersk Triple E vessel is only 25% longer than the 7,400-TEU Regina Maersk class, yet carries 150% more freight
In addition to physical limits on the number of cranes that can be deployed, the cost and availability of labor in some locations also restricts the number of additional cranes than can be utilized on each ship.
Finally, loading and unloading the new giant ships involves using gantry cranes which are higher and have longer outreaches, meaning that the trolley has to physically travel further per cycle between the quay and the ship's hold, making it harder to maintain the number of crane moves per hour versus that achieved for smaller vessels.
This dilemma is nicely illustrated in a graphic from the analysts at Drewry Shipping, as part of a recent Container Insight blog posting. Note this illustration assumes the number of moves per hour per crane remains constraints, although as noted just above that may not really be accurate. Drewry does note that "offsetting the greater travel distance per move with the cranes in terms of productivity could be is that bigger ships tend to have more containers discharged and loaded to/from each hold, so there is less picking and choosing required and fewer crane shuffles. It may also be the case that more tandem lifts and dual cycles are possible."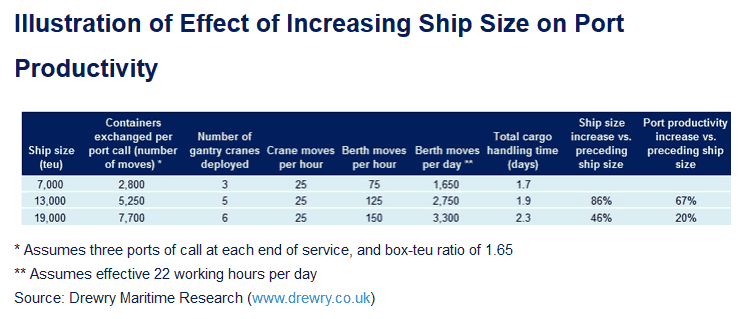 (Global Supply Chain Article Continued Below)