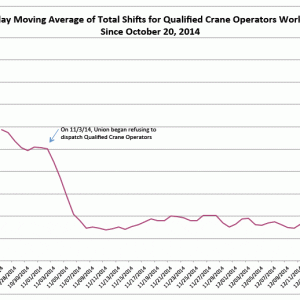 Click here to view original web page at www.scdigest.com
From SCDigest's On-Target e-Magazine
The Environment has become Worse Since Mediator Scot Beckenbaugh oined Talks Last Week; PMA Presents Work Slowdown Data, While ILWU Walks Out in Portland
SCDigest Editorial Staff
What began as very amicable discussions last May between the International Longshore and Warehouse Union (ILWU), which represent dock workers on West Coast ports, and the Pacific Maritime Association (PMA) that represents 29 West Coast ports, has descended into acrimony and a growing war of words and now actions.
With the Longshoremen now working without a contract since June 30, and the likelihood of a strike or a lockout seeming to increase by the day, the PMA took a shot at the union this week by stopping container unloading from ships in port during overnight hours, costing jobs, at least temporarily.
SCDigest Says:
ILWU press release would seem to have broken the pledge both sides had made early in the talks not to discuss any details of the negotiations in public, unless both sides agreed.
But the PMA responded that the move was essential given the backlog of containers in many West Coast terminals, notably at what is by for the busiest US port complex at Los Angeles and Long Beach, with the PMA saying that conditions were "approaching complete gridlock" at many operations.
In a bit of irony, ILWU officials criticized the move in a press conference last week as a cutback on jobs, even as the PMA has continued to chastise the union for an alleged work slowdown caused by not sending enough workers to get the job done - a tactic which of course would also obviously result in few Longshoremen at work.
Late last week, the PMA released statistics indicating that the union has reduced by about 67% the number of skilled equipment operators being dispatched each day over the past two months at LA- Long Beach, as shown in the graphic from the PMA below.
"The ILWU's action in Southern California goes against 15 years of precedent and targets precisely the skilled workers who are most essential to clearing congested terminals. By withholding an average of 75 yard crane drivers each day, the ILWU has stalled the movement of tens of thousands of containers, the PMA estimates. Since Nov. 3, the union has reduced these yard crane operator positions in Southern California by 67%," PMA stated Monday in a release.
All this and more after outsiders at least were heartened that the ILWU at last joined the PMA in calling for a federal mediator to join the talks, which resulted in Scot Beckenbaugh of the Federal Mediation and Conciliation Service (FMCS) being assigned to the negotiations early last week. (See New Federal Mediator Brings Hope for Labor Contract at West Coast Ports.)
The FMCS was said to have been critical in reaching a deal that ended the infamous 10-day lockout of the Longshoremen by the PMA in 2002. Beckenbaugh himself is probably most well known for being the mediator on board when the NHL lockout of hockey players finally ended in 2013, saving the season that year.
PMA Presents Data it Says Prove ILWU Engaged in Major Work Slowdown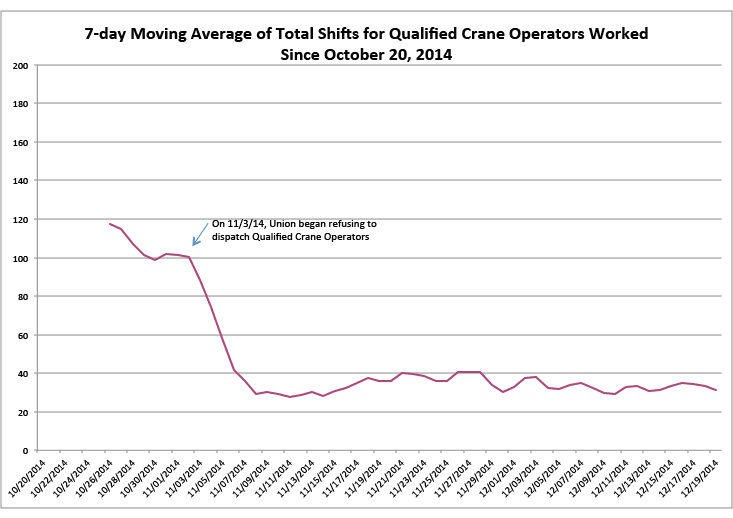 Source: Pacific Maritome Association
Relative to the stoppage of overnight unloading, PMA spokesperson Wade Gates said that "It makes no sense" to unload containers at night when the yards are already choked with containers and there is no room for the additional boxes. Terminals still intend to call full gangs to work the yards and gates each night order to make room for containers being unloaded from the vessels, Gates added
(Global Supply Chain Article Continued Below)