February 22, 2016 –
If you operate electric forklifts in your warehouse, DC or manufacturing facility, you know that the battery is the heart of the forklift, and without it, your forklift may as well be a leaning post. And when your forklift won't quite make it through a shift anymore, or begins to emit that nauseating sulfur odor, you know it's time for a new heart. Whether you will order your battery over the phone, or have your local forklift dealer handle it, the more you know about what you are buying, the better off you are. So, let's take a look at how to get the info, and what it all means.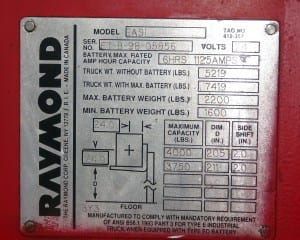 Where do I start? Forklift power requirements vary greatly, depending on manufacturer, type of lift truck and operational requirements. But don't worry, the information you need is easy to find! Check out the specification plate on your forklift. It will display the model and serial number of your lift truck, voltage required, along with ampere hour requirements, and minimum battery weight. That is most of what you need to get your battery. But let's look at what else you need, and review some of the terms.
Voltage: Battery voltage requirements typically range from 12 volts to 72 volts. Twelve volts is uncommon in today's machines, but was used for many years in pallet jacks. Today's pallet jacks typically operate on 24 volts, while stand up machines, like reach trucks are usually either 24 or 36 volt. Larger machines, like swing reach trucks, often require higher voltages and require 48- 72 volt batteries. The voltage directly affects the speeds of lift and travel, and can be compared to water pressure. The higher the pressure, the faster water rushes out of the hose.
Amperage: Amperage can be compared to water volume. A hose that has 90 pounds of pressure but only one gallon per hour of volume may run a large sprinkler well, for a second, but then the pressure drops because of insufficient volume.  Amperage is similar. If the ampere hour rating is low in a battery, it may be capable of operating the forklift for four hours, but then the truck begins to slow, and the battery requires a re-charge. With a higher ampere hour rating, that run time will increase. Higher ampere hours equate to 'more fuel in the tank'. Therefore, if you have a long shift, you should consult your forklift or battery representative to consider a higher ampere hour battery for your truck. The tradeoff to these high-output batteries is sometimes diminished lifespan and an increased cost, but when needed, are worth the incremental investment.
Weight: The weight of the battery is very important. Consult your specification plate and be sure your new battery meets the minimum requirement of the manufacturer to be sure your forklift's capacity is not affected, as the battery acts as counter-weight to the load.
Size: You may know that your battery is a model 18-85-19, but that model may come in multiple configurations. Be sure to measure your existing battery and the battery compartment, and supply this information to your dealer.
Cables: The battery manufacturer typically knows what cable your forklift requires based on model number, but it is still a good idea to check it. The cable should be measured from the edge of the battery to the end of the connector, and the location of the forklift connector should be noted to ensure the new cables exit the battery in the same location. The connector should also be noted. There are typically two styles, SB175 (175 Amp capacity) and SB 350 (350 Amp capacity), and they come in multiple colors, which are not interchangeable.
Now you are informed and can go out and sound like a pro. Remember to consider watering systems and water level indicator lights too. Leave me a comment if you need any assistance.