January 16, 2017 –
Sometimes we all have trouble grasping the details of something new. For me, it was using the clutch and shifting a Yamaha 250. Grandpa went over it carefully and completely. At age 15, I just didn't get it, never having done it before. All I remember was grinding gears and being impatient, wanting to ride without all this other stuff to worry about.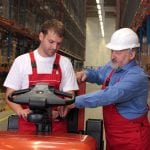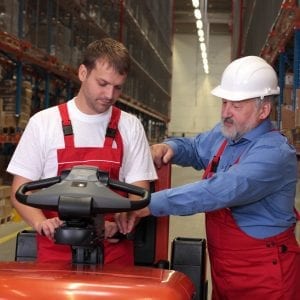 First time forklift operators learning to drive a big and powerful machine will face similar challenges. Per OSHA, it's the employer's responsibility to train new operators prior to setting them loose in the warehouse. There's a lot of information crammed into a few short videos and written tests. And that's only the first step. The practical portion of learning the controls and rules of the road can be difficult and time consuming. It's going to take some time for your new operators to develop the skills to drive safely.
How do you train your staff?
Some companies have the resources to train their own trainers. These people are competent in the written material, as well as the operation. They know what to look for and how to coach, usually without any formal training themselves. They can then put in the effort required, one operator at a time. But these trainers typically don't monitor performance after the training.
Some companies bring in trainers, when needed, for classes of eight or more. Because of the cost involved in shutting down production for a whole day, this is often difficult and expensive. Sometimes it may include paying employees overtime. These outsourced trainers also rarely do long term follow up unless they're contracted to do so.
Other companies are small and have very little turnover. They sometimes send individuals to their local dealer for training, one or two at a time, as it the most economical. This can work but often they return to their warehouse without a firm grasp or comfort level and without anyone to coach them. What then?
Look to your material handling equipment provider for the best possible "initial" safety training options.
Once classroom and initial hands-on training is complete, the operator is fully proficient and ready to go, right? Not so fast. Even if the driver came to you with "experience," there are things to watch out for and ways to make sure you've got a safe operator for the long term. In most warehouses, this is a supervisor or team leader observing all activities for the first few days or weeks.
What if those leaders could:
limit speeds for the first days or weeks?
have access to impacts and other metrics for the short and long term?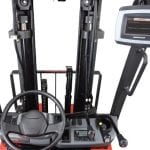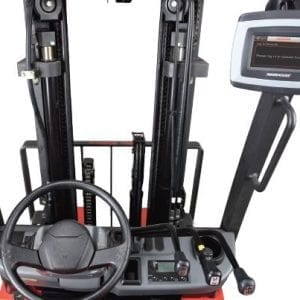 The new Raymond iWarehouse brings both those training advantages with it. From your desktop, you can adjust lift truck speeds and acceleration by operator, and you can monitor impacts and other metrics. It won't eliminate the need for classroom or hands-on training, but it will give you visibility of who's getting it and how quickly they're grasping it, and who's not.
After my first tetanus shot that day with my grandpa, (thanks to the barbed wire at the other end of the field), I went back and this time watched closely the same things he had initially tried to show me. He now knew I was ready to learn and had me practice shifting with the engine off. He then held the bike and leaned me this way and that way before setting me loose in the field again. It was a great day, and with that initial training and practice, I still enjoy riding today.
Reference:
OSHA 1910.178 Standard Interpretations for powered industrial trucks.