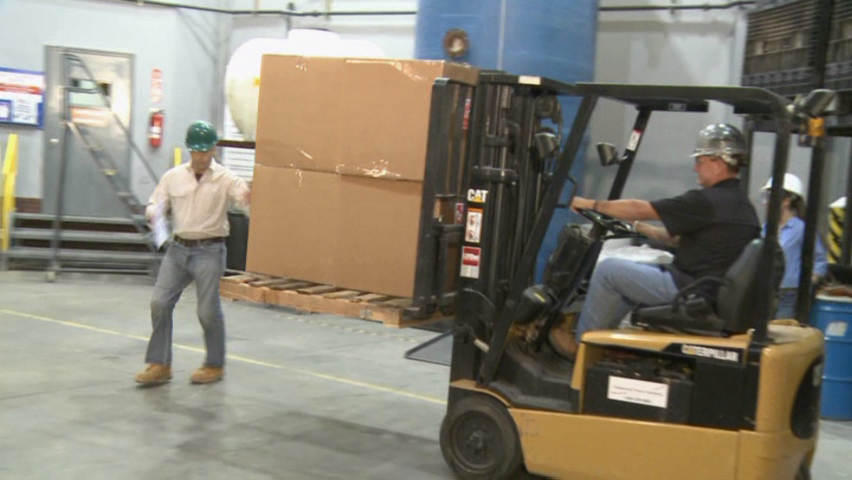 Click here to view original web page at mytoba.ca
Forklifts are an essential part of business in many cases. They streamline lifting and moving, making it possible for a single person to do the work of 10-20 men in no time flat. Like any piece of machinery, though, forklifts come with a certain amount of risk. Accidents occur regularly, and they can turn deadly fast. The good news is that most of the accidents are totally preventable. Staying safe often comes down to remaining aware and having the right protective measures in place.
Consider Purchasing Accessories for Forklift Safety
Regardless of whether you use your forklift indoors or out, there are some accessories that may prove invaluable in keeping your employees safe.
Backup Alarms: Every large piece of moving equipment should have a backup alarm. It's a standard safety precaution. If the unit you purchase doesn't already have one, or it doesn't work right, get a new one.
Blue Lights: In a busy, noisy warehouse, people aren't always aware that a forklift is on the move. Blue lights are traditionally aimed at the floor to illuminate a space several feet to the front and back of the forklift. This way, even workers who are looking down at a project see the blue light and know that the forklift is approaching.
Low-Weight Propane Tanks: Because they're lighter, they're easier to lift. This reduces the chances that an employee will drop one or injure his back while lifting.
Safety Vests: Having all workers wear bright orange safety vests makes them more visible. This makes it much easier for a forklift operator to identify where people are, and to be aware of his surroundings. Vests with reflective strips can be used to help people stand out even more in dimly-lit, smoky, or dusty environments.
Seat Caddy: Even though a seat caddy may not seem like a safety device, it serves an important role. It keeps items out of the hands of the driver, tucked neatly away. With an over-the-seat caddy, belongings can be tucked behind the driver, where he isn't tempted to look at them while working. This is essential today, when just about everyone has a smartphone.
Strobe Lights: Unlike the downward-pointing blue light, strobe lights should be placed at eye-level. They're a universal sign that people should be alert, and indicate equipment is moving. They can also be used to warn people that there has been an accident.
Additional Forklift Safety Tips
Have all employees complete safety training. Your company should have its own safety guide, complete with employee rules and regulations. Workers should be required to complete the training before setting foot on a jobsite, and refresher courses should be given on an annual basis. Training should cover safety protocol, emergency protocol, and first aid.
Equip every forklift with the same safety equipment and enforce the use of it. Seatbelts, caddies, and other gear should be mandatory, and there must be consequences for those who don't follow company policies.
Assign each employee safety equipment and keep extras at entry points. Things like vests and hard hats should be assigned to each individual. However, you'll also need to keep spares at entry points and midway points for employees who aren't usually in the work zone.
Consider using colored systems at entry points and at the end of aisles for communication. Whether you opt for an LED light system or a basic colored flag system is a matter of preference, but these systems provide valuable communication about whether a worker should proceed, and what conditions he'll find.
Alarm and illuminate electric pallet jacks. Although they generally pose less risk than a forklift, electric pallet jacks can cause injury as well. For this reason, you should consider adding backup alarms, blue lights, and strobe lights to all of yours.
Awareness and respect for large working machines is essential. While most companies set out with the best of intentions, safety tends to fall by the wayside and employees get complacent on the job site. Keep the right tools and safety equipment on hand all the time, and assign an employee to monitor them to ensure they're always available and in working condition. Regular training courses and refresher courses can help keep safety at the forefront of your team's mind, which keeps them more alert on the jobsite. Most importantly, keep a mindset of safety. When the staff sees how seriously you take safety, they'll follow your lead.