December 16, 2019 –
Are you buying the right equipment for your forklift operators? Is there something that could make their day on a forklift a little easier? Maybe more efficient? What if I told you there are forklift options out there that can make the difference in employee turnover and/or reduce a daily task from two hours to one?
With the holidays right around the corner, consider giving your operators one or more of these innovative forklift options for your specific application.
Freezer Industry
Freezer storage is in high demand. If you're in the industry, you know how expensive it is to build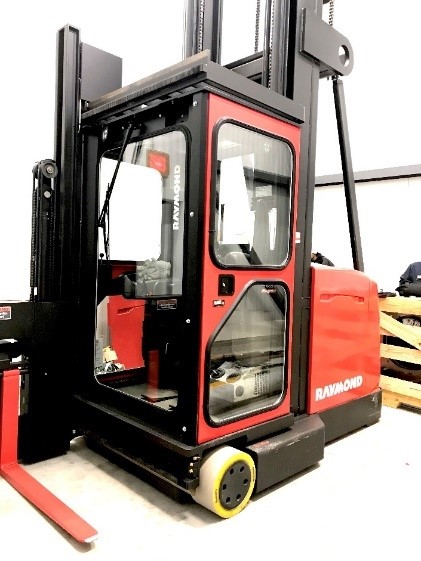 and successfully operate cold storage operations. The more pallets stored in the freezer, the more successful your business will be. Reducing aisles down to just 72" by utilizing a very narrow aisle approach with a wire-guided Swing-Reach Turret truck can, in some cases, almost double pallet storage capacity!
But finding an operator willing to sit on a turret truck all day in subzero temps can be quite a challenge. What if there was a way to keep the operator warm and productive all day? The enclosed heated cab option on a turret truck will do just that. This feature provides a fully enclosed environment for the forklift operator to sit comfortably and make their day-to-day tasks much more comfortable and efficient, saving the company money and retaining skilled operators.
High Bay Applications
Do you have selective or double deep pallet rack that is 25+ feet in your warehouse? Give your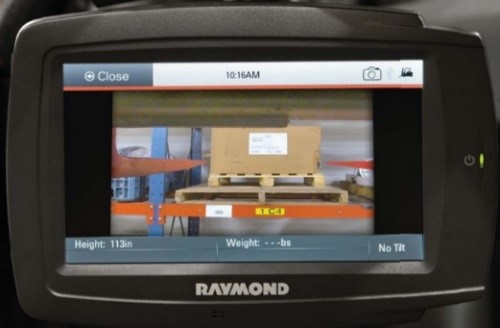 operators peace of mind with a green fork laser or Vantage-Point Camera System. These forklift options are designed to reduce damage while making day-to-day operations faster, safer and more efficient.
Fishing Industry
Who doesn't love lobster? What if there was a way to increase your operation's unloading and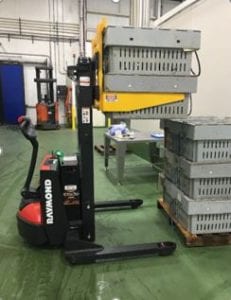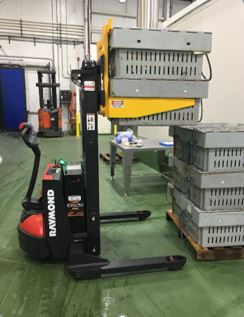 handling efficiency by 100% to get the beloved lobster on the dinner table faster? Meet the lobster picker. Designed to carry multiple totes, this attachment almost eliminates the need to manually stack totes when unloading and moving around in the processing facility. Pair this attachment with a Raymond Walkie Stacker, and you'll find a safe, easy way to move product in tight areas.
Keep in mind, these are just a few forklift options available. There are hundreds of add-ons specifically designed to make your operation more efficient. Talk with your local forklift dealer today and see what is out there. You, and your operators, will be glad you did!