November 22, 2021 –
Intelligent, automated warehouses and distribution centers are the way of the future. But not all automation solutions are right for every facility. After you've analyzed your facility and optimized your existing processes, the next step is to work with a partner to objectively evaluate the best automated solutions for your operation.
How to Maximize Resources and Improve Productivity with Complete Automated Solutions
Abel Womack's very own Rick Dionne will be co-hosting with Rich O'Connor from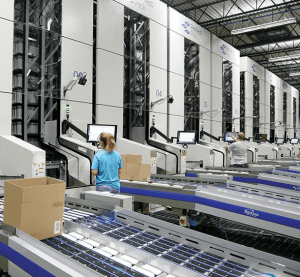 Raymond West in this MH&L-hosted online event. Register for this complimentary live webinar today to learn:
The importance of working with a complete intralogistics solutions provider to create a complete system for product movement.
Finding the right automated solutions for your operation, whether that's automated guided vehicles, conveyors, automated storage and retrieval systems or even robotics.
How to ensure you have the right aftermarket support.
Automation used to be something you considered; now it's a must have to cope with the struggling work force, the demand for quicker turnaround time and the volume of business. Unfortunately, the new requirements are necessary to compete in this vastly different environment that exists today. Always remember to optimize your current condition first, this makes the transition to an automated system that much easier.
Date: Monday, December 6, 2021
Time: ­­­2:00 p.m. ET
Duration: 1 Hour
You won't want to miss this informative conversation with these automation experts. But, if you can't make the live event, no worries. Register here and you'll receive a link to view the webinar after the broadcast.