April 13, 2015 –
Floor scrubbers and sweepers have come a long way since they were first introduced in the early 1900's. Although the purpose is still the same, technological advances have made them easier to use and environmentally friendly.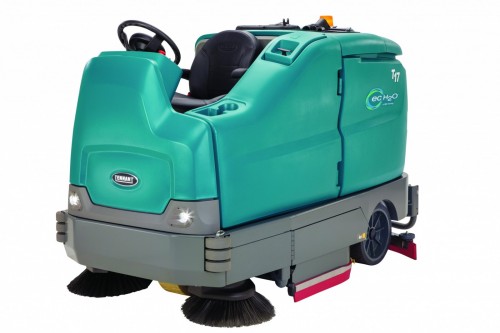 Floor scrubbers and sweepers are used to clean a floor of debris, oil, grease and other floor marks. They utilize a rotating scrubbing head and a system to dispense a cleaning solution and then vacuum it up. So, in one pass, the floor has a clean look. The systems also utilize two distinct tanks (solution dispensing and recovery) in order to keep the clean water from the dirty water.
Depending on the size of your manufacturing space or distribution center, there are several options you may consider. Walk-behind units are effective in smaller, tighter areas while ride-on units can provide a wide coverage area for larger sites.
Abel Womack has recently added the Tennant industrial line to round out their product offerings. We can furnish new or pre-owned units, as well as rentals, if your operation does not require a full-time solution.
Tennant's ec-H2O technology reduces chemical and water use. It is a more environmentally-friendly solution that electronically converts water into an innovative cleaning solution that cleans effectively, saves money and reduces environmental impact compared to typical cleaning methods and solutions.
Fully automated scrubbers (like the iRobot vacuum cleaner for your home) are becoming more mainstream, but it seems that walk-behind and ride-on scrubbers will never be replaced. It's been over 100 years and they are still pervasive in the industrial world.
So get those dirty thoughts out of your head and think about a Tennant. Abel Womack is here to help you shine.