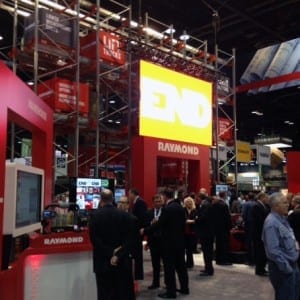 March 30, 2015 –
Having just returned from ProMat 2015 (I'm guessing I've been to a dozen or more), I thought I'd share a few observations.
The turnout was big, further evidence that the Great Recession has passed and the animal spirits are back in business. Notwithstanding a slow day on Monday because snow in Chicago made it hard to get there, the other days were vibrant and the show was buzzing with excitement. And the show visitors weren't just kicking the tires; they came with real interest and projects in mind.
It's very clear that the trend toward automation remains intact, with an overwhelming array of robots at the automation part of the show and several new technologies for tote and order handling. There were a host of automated guided vehicles on display, both from large automation companies and new upstarts. The more progressive lift truck companies are also showing movement toward unmanned trucks- demonstrating that they get the message that customers want to minimize direct labor requirements and costs. It seems to still be somewhat of a work in progress, particularly for US companies, but the industry is getting there.
Telematics was front and center. Raymond's iWAREHOUSE was a big hit as well as some of the third party offerings. Clearly, the age of big data for lift truck fleets is reaching the tipping point. Right sizing the fleet, improving operator performance through measurement and accountability and having clear visibility of what's  going on in your DC is moving from 'nice to have' to mission critical.
There were lots of WCS and WMS offerings but not much significant innovation from the conveyor hardware community. Clearly, the focus is on controls and optimizing order management and sortation.
The growing importance of the eCommerce industry was also evident, as there was much more focus on machines to rapidly handle and manage small orders. Some were developed by manufacturers and some by large systems integrators, demonstrating to me that it is a rapidly growing, previously underserved need.
All in all, a good if not great show. What did you think of ProMat 2015?