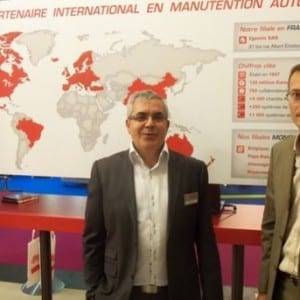 Click here to view original web page at www.foodproductiondaily.com
Egemin Automation will design and install a turnkey intralogistics system for Synutra's first milk processing plant outside of China.
Related news:
The system covers automated management, transport and storage of all flows of raw materials, finished products and consumables.
Synutra's milk powder processing plant is in Carhaix, Brittany and will be operational by the end of 2015.
Sodiaal (the third largest European milk cooperative, which has 14,000 producers and markets the Candia, Régilait and Yoplait brands) and Synutra (the third largest Chinese producer of milk powder) recently formed a commercial partnership.
Largest milk powder production globally
Synutra is investing €135m in France in what it claims will be "the most modern, largest milk powder production plant in the world".
By 2015, the plant should be producing up to 300,000 tonnes of milk powder per year exclusively for the Chinese market.
The factory will also provide opportunities for the 1,000 Breton dairy farmers supplying it with milk.
Logistics system description
Thierry Belissa, director general of the division handling automation at Egemin, told FoodProductionDaily.com that it handles all kinds of logistics programs for pallet systems – also known as full in full out capability.
"We can answer with stack-a-crane system to store pallets, as well as HGV to transfer pallets from one point to another and we have software as in WMS," he said.
"We were able to give them a technical solution which was able to respond to the problem they had in terms of building. We are able to keep the flow of pallets and increase the flow of pallets in the future if needed and to respond at different points of the factory.
"We are able to pick the pallet from the production area, from the dry mix area, the canning area and bring it to the storage area and reverse if needed."
There is growing worldwide demand – driven by Asian countries in particular, which is causing a production race between European milk producer countries, said Egemin.
France, the second largest European producer, needs to modernise operations to maintain its position, the firm said.
The system is made up of a conveyor loop in the receiving area and an automated warehouse with a capacity of 9,000 pallets with five automatic storage/retrieval systems.
It also includes six AGVs to distribute raw materials and consumables within the plant, a conveyor loop in the shipping area and a WMS/WCS software system for warehouse management and control of all transport and storage systems.
Belissa said it will start building the storage system in July/August and it will be fully operational by early 2016.
"We have our WMS which will manage and communicate with all the different tools and give the order to our HGV, stack-a-crane and conveyor and that's how we combine the whole thing which makes our solution really interesting for Synutra," he said.
"For Synutra it's the first factory they made outside of China, it is over a €100m investment for the whole things. Just for the logistics part for Egemin it's between a €4-5m investment."
Fonterra deal
In September, Fonterra ordered an AGV system from the firm, which will be fully operational by June 2015. RML Engineering, Egemin's partner for Asia-Pacific, will handle the commissioning.
The order includes the delivery of four AGVs with battery handling system and E'tricc software for the processing plant in Pathiatua which already has an AGV system from the firm in use.
AGVs pick up pallets with milk powder from the end of the production line and transport them to the shipping zone.
Fonterra made the investment because of the expansion of its production line. Every day 1.4 million litres of milk is processed into whole milk powder at the site – meaning 55,000 tons of products per year transported with the AGV system.