February 1, 2021 –
The way people purchase products has been trending toward online/e-commerce over the past number of years – and over the past six years, growing at an exponential rate. According to OptinMonster's Coral Ouellette, global online shopping has been growing so fast that it was estimated to hit 4 trillion dollars by the end of 2020. By 2023, in the US alone, there will be 300 million online shoppers, 91% of the entire country's population.
As of 2020, 69% of all Americans shopped online with 25% shopping at least once every month. E-commerce retail purchases are expected to rise from the current 14% of all purchasing to just over 22% by 2023. This may not seem so formidable at first glance,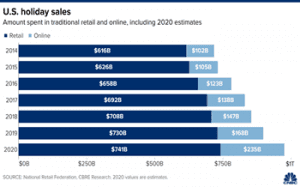 but this results in hundreds of millions of additional orders per year.
During the past holiday season of 2020, online sales grew to $235B (24% of all sales) – up from $168B (19% of all sales) in 2019 and $147B (17% of all sales) in 2018.  This trend has been growing steadily since 2014 (see chart).
A new rate of return
There are many consequences and factors relating to this massive shift in purchasing platforms. However, none is more impactful and relevant to the supply chain industry than the growth of returns. Brick-n-mortar, or "in-store" returns, have held steady at a rate between 5-10% of store sales. But online returns have climbed to upwards of 40%. According to Shopify.com, as many as 89% of all consumers have returned items bought online over the past three years.
According to CNBC's Lauren Thomas, "this surge in digital orders [and returns] has created a heightened demand for warehouse space in the US so that retailers and delivery providers can handle all of the packages coming in and out." Much of the reason for this is not only that customers are returning more products than ever but so many of these returns are not being reordered –requiring double the space.  In Narvarin's piece on The State of Online Returns in 2019, 38% of returned items were not replaced at all. Another 14% was replaced by a different supplier (competitor) for a total of 52% not replaced by the online retailer.
Due to this extreme pressure being placed on existing warehouse space, as much as 400 million square feet of additional warehouse space could be needed in the next five years just to process all these returns. Plus, CBRE also predicts that in the US alone, we will need an additional 1.5 billion square feet of industrial space within the same five-year stretch.
During the last few years, many large retailers have been improving their returns policies to appeal to consumers and win more online business. This has come at the high cost of free delivery and free returns. Compounding this was the issue of: What to do with these returns? Believe it or not, many were just destroying them – treating them all as damaged returns, even when not damaged – just because it was too much work using too many employees' time to go through all those returns, separate, organize, repackage them – and ready the non-damaged ones for restock and resell. Instead, returns were just a "cost" of doing online business. But with returns costs ballooning, this method could not be sustained forever.
Making room for returns
There are solutions however – in the form of innovative entrepreneurs. New companies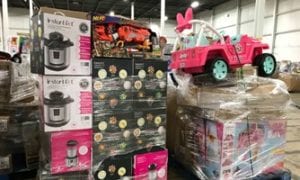 have been sprouting up that do nothing but receive, process, store and resell, or destroy returned orders for the original retailer. Companies such as B-Stock Solutions, Direct Liquidations and Happy Returns are all too happy to take in the millions of returns each month, so the original retailer does not have to deal with logistics, space, and labor costs. In fact, according to CBRE, these record returns have become such a financial burden that the average cost to return an item can be as much as 59% of the original sale price.
Another liquidator, Direct Liquidation, buys returns from three of the biggest retailers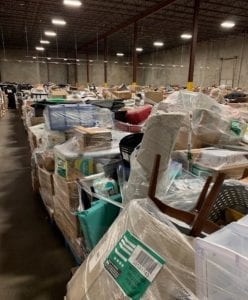 in the US – Walmart, Lowe's Hardware and Target. They then sell them in box loads, pallets, or truckloads. To make this all happen, these companies are building out or taking over large amounts of warehouse space. For those online retailers going it alone, they have been redesigning and setting up new layouts to optimize existing warehouse space – or add an addition (annex) or raise the roof to increase pallet positions to make room for the returns.
Analyze, optimize, and then automate
All of this creates great opportunities for industry participants who can provide the storage, handling and process systems that can transport and organize returned products through a facility more efficiently and accurately than ever before.
Over the next few years as shoppers continue to increase online purchasing and funnel back returns at increased rates, existing warehouse space will become even more valuable and primed for space optimization, along with a need to acquire more storage space – even at the expense of "front-of-the-store" square footage. Now is the time for online retailers to work closely with their material handling partners to prepare for the future of consumer shopping.
Sources:
Ecommerceguide.com — Graham Charlton
Coldwell Banker Real Estate (CBRE)
OptinMonster (Coral Ouellette)
CNBC – Lauren Thomas
CNBC – Courtney Reagan
Narvar: The State of Online Returns, 2019