If you need immediate assistance, please call us at 800-554-2887. Someone will be in touch with you shortly.
See our satisfied customers. We can help you too!
Tappan Wire and Cable

"Abel Womack put together a creative solution that met Tappan's existing and future needs. Their experience allowed the racking and equipment solution to make the best utilization of the available space."Kevin Conroy, Material Manager. Read the case study.
New Balance Athletic Shoe, Inc.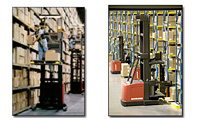 "The Abel Womack support team is the best. They respond in no time and their technicians service our equipment quickly and efficiently. Throughout the entire organization, it's the people that make the difference. They are a company that is concerned about our success."
—Rick Thorn, Distribution Engineering Manager – New England. Read more and see a video about the New Balance operation.
Heidelberg / Goss International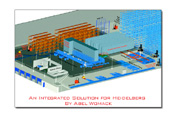 "We have come to rely on the high caliber engineering talent at Abel Womack to help us save space and improve operational efficiencies. They come up with designs that save us money."
—Steve Page, Distribution Manager
Versacold

"I wanted to thank you for the great presentation you put on at our site this past Wednesday. I thought it was well structured and the group had nothing but good things to say about the session. I believe the training will be helpful in moving us to the next level. Thanks again for your time and efforts."
—Rich R, Director EHS&S VersaCold Boston
C & S Wholesale Grocers

"Abel Womack has the best lineup of material handling equipment in the business. Everything they sell is top shelf, and they have the expertise to make it all work as a system".
—Director Maintenance & Facilities C&S Wholesales Grocers, The 2nd Largest Grocery Wholesaler & Distributor in the U.S. Read the case study.
Titleist / Footjoy
"The service technicians are polite and courteous. They consider our needs first and safety is always number one. The techs always arrive on-time and they stay until the problem is fixed."
—Paul Sowersby, Director of Distribution, Titleist/Footjoy, Fairhaven, MA
Lindenmeyr Munroe

"I have had excellent experiences with the staff at Abel Womack. They are very efficient. When I call up, they get right back to me, when I have any questions or problems, they take care of them right away. I don't have to worry about anything."
—Bob Topliff, Corporate Distribution, Lindenmeyr Munroe
Follow us on Twitter and Like us on Facebook for updates on material handling news.