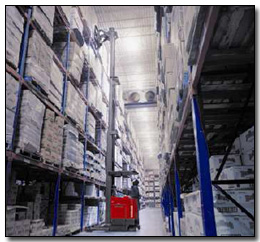 C&S Wholesale Grocers is the 2nd largest food wholesaler in the United States. They are the twelfth largest privately held company in the United States. For over 85 years, C&S has provided first-class warehousing & distribution services to its customers.
With warehouse space surpassing 4 million SF, C&S needed equipment that could handle steady use and harsh conditions 24/7. They chose Raymond trucks because of their performance, technology and reliability. Raymond worked with C&S to develop trucks for their business that were rugged and could perform at very high heights.
Some of the advantages in using the Raymond equipment were the multi- function capability, AC technology and low maintenance. These features saved C&S a great deal of time. Operators were able to move increasing amounts of pallets in less time and with more efficiency.