Your business is growing and your facility has run out of space. You are faced with the costly idea of buying more land and constructing a new building with a larger footprint, but that isn't an option because zoning requirements won't allow you to go as high as you need. Plus, you don't want to move your physical location. So, the issue remains- where are you going to store thousands more pallets?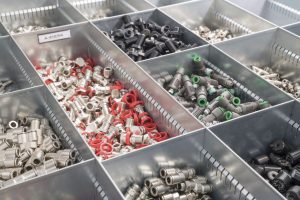 If you could go from three to five tiers high with the current height restriction you would need to have 40% more square footage as compared to be able to go seven tiers high. Depending on your location, one option could be to dig down 20 feet to add additional storage using a vertical lift module (VLM).
Imagine if the storage space was a cooler or even worse, a freezer. There is a significant cost difference with the building and material handling equipment needed for cold storage, exacerbating the issue.
Maybe your operation has massive amounts of small parts stored in shelving units and your building is only 12-16 feet clear. That is a substantial amount of shelving which equates to a lot of picking costs, not to mention the loss of valuable real estate which could be used for additional revenue generation.
Creative solutions outside of the standard box
With 100 years of material handling experience, Abel Womack has worked with architects and engineers to come up with creative solutions to these sorts of problems.
For cooler and freezer storage, we can find those extra two levels or more by going down. Plus, it adds to the efficiency of a freezer.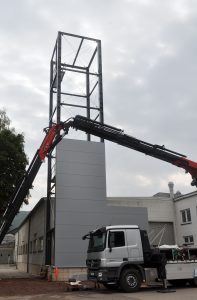 As for the shelving challenge, one way this issue can be resolved is with an external silo much taller than the existing building to house one or more automated storage and retrieval units. We recently helped our customer do just that.
Their building is 18 feet tall outside, 12 feet clear inside. We built a 42-foot silo attached to the building which allows them to put all their parts in a VLM. Now they can add more work benches in the production area using the additional 25% space they reclaimed in same footprint. This additional production space will pay for the silo and VLM even in a climate and static controlled environment.
One partner, many solutions
These space saving solutions are just some of the creative ways Abel Womack has helped our customers become more efficient and cost effective with their businesses. And we'd love the opportunity to help you solve your challenges too. Contact one of our material handling specialists today