February 27, 2023 –
Traditional construction can be time consuming, costly, and doesn't have the flexibility to evolve with your business. Avoid the headaches of the traditional building methods and learn why modular building systems should be leading the conversation.
Modular building systems for industrial warehouses and manufacturing facilities
Modular offices: These are prefabricated office spaces that are essentially built off-site, shipped disassembled, and then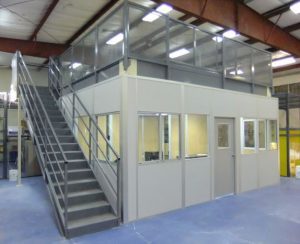 assembled on-site. They can be used for warehouse and manufacturing supervisors' offices, breakrooms, training room, driver enclosures, QC personnel, etc.
Mezzanines: If you're out of floor space but have vertical height, these can provide additional space and storage areas. Mezzanines can be used to create additional office space, storage space, or manufacturing areas.
Cleanrooms: These are controlled environments that are designed to maintain low levels of contaminants and used in manufacturing processes requiring quality control.
Equipment storage & enclosures: These are prefabricated structures that are designed to protect equipment or provide additional, secure storage space.
6 Advantages of a modular building system vs. traditional building
Speed: Modular buildings can be constructed much faster than traditional buildings. Components are pre-engineered, so they just need to be assembled upon delivery while significantly shortening the project timeline.
Cost-effectiveness: Requires less material, labor hours, and on-site expenses.
Flexibility: It offers many options to design to meet your current needs, but can easily be reconfigured, expanded, or moved to another location.
Customization: Modular building systems can be customized to meet the specific needs of the business, including layout, size, and features.
Quality: Built in a factory with consistent quality control and manufactured to exact specifications, therefore reducing the risk of errors and delays.
Liquid Asset: If the modular building is no longer needed, you have an asset that can be disassembled and sold to another party for some return on your investment.
Reap the rewards with leasing benefits
Lower upfront costs: Avoid a large upfront investment and free up capital for other needs.
Flexible terms: Match the length of the lease to your specific needs. A Fair Market Value Lease can be set to match the length of your leased building, with built in residual offering lower monthly payments.
Scalability: Expand or reduce the footprint as business needs change.
Tax benefits: Depreciation for modular construction is only seven years compared to traditional construction at 39 years.
The applications are endless with modular building systems. Contact Abel Womack to learn more about modular today.