October 31, 2022 –
Acquiring a new electric forklift? Wondering what type of battery to get? Well then, consider this…
The forklift battery market is primarily divided between lead acid, the more traditional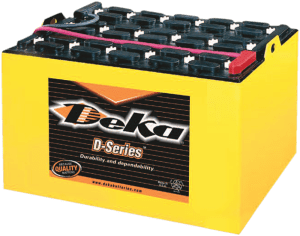 workhorse of the industry, and lithium-ion, the newer technology power source. The mainstay leader has been lead acid. This is expected to continue but at a diminishing rate as lithium-ion batteries (LiB) become more practical and cost-efficient.
According to the online trade magazine, Global Trade, the global forklift battery market is valued at $23.5B and is expected to grow at a CAGR of 6.6% over the 2022-2032 forecast period. The US forklift battery market will see an even stronger growth rate of 8.5%. Lead acid batteries are expected to grow at a 2.5% compounded annual growth rate (CAGR), while lithium-ion batteries, though a smaller portion of the market, is expected to grow at 15.2%.
The main issue for LiB is its upfront cost: is it worth paying so much more than lead acid? Let's consider the reasoning behind the upfront cost and the debate over that cost versus long-term cost of ownership.
Production: When does lithium-ion make sense for you?
The right battery will be determined by the level of capacity and the kind of application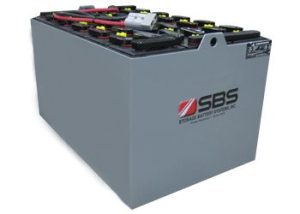 the forklift will be working in. For instance, a one-shift, light usage with a few forklifts in a small facility scenario is vastly different than a 3-shift, multi-pick level, heavy usage with a large fleet of forklifts. As your production throughput scales upward toward heavy use of handling equipment LiB becomes a more attractive option, particularly when you consider the many other factors that determine how cost-effective LiB can be.
There are several considerations that can swing your decision between lead acid and LiB:
Temperatures above 110° are not suitable for LiB, but this is rare. Nonetheless, in these circumstances it would be prudent to note that LiBs performance would degrade when facilities hit and maintain unusually high temperatures.
Frequency of use – including how many shifts as well as usage within a shift is a major factor in this decision. LiBs maintain strong performance throughout its cycle with little to no degradation as opposed to lead acid batteries whose performance will decline over the course of a long shift.
Charging – LiB batteries can run uninterrupted for longer cycles without the need for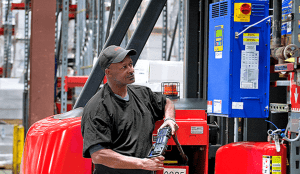 recharging versus lead acid batteries, which saves significant production time. According to a Cummins Newsroom article, charging a lead acid battery can take more than 10 hours a day, whereas a LiB can take three hours or less depending on battery size. This can be critical for time-sensitive applications using high-usage vehicles with few break intervals.
Longevity – it is expected that a heavily-used lead acid battery, even if well-maintained, will usually last an average of four years while a LiB has an average lifespan of eight years – essentially doubling its life and maximizing cost efficiencies.
Ancillary Considerations
Swapping – lead acid batteries run through their charge much faster than LiB; consequently, they need to be charged more often which takes forklifts out of production for many hours at a time. One solution to this is to have additional batteries charged up and ready to go. The idea is to swap out the low charge battery for the new one. The changing operations inherently create risks of "crush" injuries as well as muscle strain injuries. Since LiBs last considerably longer and charge so much faster, there is virtually no need to swap batteries. Plus, since you will not need to carry extra batteries, there's no need for additional floor space for separate battery rooms.
Watering – besides being an added maintenance time-eater, lead acid batteries are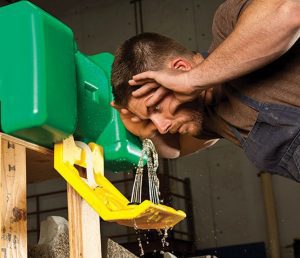 often not watered and charged properly causing acid spillovers and loss of electrolytes. This spillage, mostly sulfuric acid, is very dangerous since it is highly corrosive and can cause serious chemical and thermal burns to skin.
You can avoid the added maintenance time and safety issues by choosing LiBs, which never need to be watered and remain permanently sealed so no dangerous liquid or gases can escape. In addition, the loss of electrolytes in acid spillovers weakens the battery further, forcing the need to charge even more often.
When you consider how much down-time you save by not watering and maintaining the battery, plus preventing exposure to various injuries, and because of the gained production throughput of multiple shift operations, LiBs begin to look like a smart investment.
Solution?
Most important is the need to compare the initial high price of a LiB versus a lead acid battery and then show the overall cost of ownership over the long length of time one LiB can last (usually as much as 8-10 years).
That means you would need to purchase two lead acid batteries to match at the same time, doubling the cost of a lead acid solution. Add to this all the production gains due to more forklifts in operation rather than charging, swapping and maintenance.
Another factor is opportunity charging and its efficiency of each battery type. According to Green Cubes' Robin Schneider, lead acid opportunity charging has 80% cost efficiency when compared to LIBs hitting 98%. This saves tremendously on utility expenses.
Yes, a typical LiB could be as much as three times the price of lead acid but when you add all these factors, plus being so much safer, it is no wonder why we are seeing a greater trend toward LiBs in the material handling industries.
Sources:
Global Trade: Forklift Battery market to Tap USD $44.7B by 2032…………….by Fact.MR
Cision PR Newswire: Forklift Battery Market Size to Grow by USD 2.28 Billion | Increasing Demand for Electric Forklifts
com: Battery Acid Burns and How to Treat Them
Scientific American: Recycled Lithium-Ion Batteries Can Perform Better Than New Ones………..by Jordan Wilkerson
Cummins Newsroom: Spot the Difference: Lithium-Ion versus Lead Acid Battery Electric Technology
Green Cubes – Webinar with Robin Schneider on MHI.org on Lithium-Ion Advantages