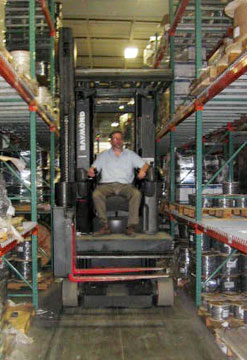 Tappan Wire & Cable, Inc. founded in 1978, is a leading manufacturer of low & medium voltage cables, which are sold throughout North America, South America and Europe.
The Blauvelt, NY headquarters location consisted of manufacturing, storage and distribution areas.  Prior to the renovation, the company did not have the space needed to expand their operation and grow their business.
Within a 2 phase construction timetable, Abel Womack was able to complete a complex and highly coordinated installation while the building remained  occupied.  Manufacturing and distribution activities were able to continue with minimal interruptions.

The existing aisles were between 12 and 13 feet, but were reduced to 72 inches, thereby reclaiming a significant portion of space that Tappan was able to use for new manufacturing machinery, helping Tappan to meet their corporate goal of increased production.
Abel Womack's new narrow aisle design included Raymond wire guided Swing Reach trucks and Orderpickers, making the operators more productive, and increasing pallet movement as well as picking rates.
Read the August 2008 article in Cabling Business Magazine .
Click here to see which Raymond Lift Trucks are best suited to the Manufacturing Industry.