DePuy, Inc., a division of Johnson and Johnson, is a major medical device manufacturer and distributor.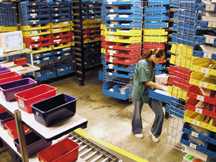 DePuy ships medical devices on a Just-In-Time (JIT) basis directly to hospitals and to its sales force of individual representatives, who deliver to the hospitals.
"JIT speed is needed because a surgeon may place an order for a medical device one day, then operate the next day using the equipment", said Dave Johnson, Director of Distribution for DuPuy.
To meet the requirements for a high degree of order accuracy as well as the speed at which orders are shipped, horizontal and vertical carousels as well as Shuttle VLMs were installed in the 92,000 SF facility.
Click here to read the entire case study.