January 21, 2019 –
September 13, 2018 is a day that many here in the Merrimack Valley will remember for some time. If you're not familiar with the area, the Merrimack Valley is a region in Northeast Massachusetts that's home to quite a few cities and towns including Lawrence, Massachusetts and Abel Womack headquarters.
A Series of Misfortunate Events
I left work at 4:00 pm that afternoon to get ready for a gig I had that night. Not only am I the Network Manager at Abel Womack, but I'm also a musician in my spare time. Within minutes of getting home, I was greeted with the sound of what I thought was my HVAC starting. Strange, I thought, "Why would my heat be running on a late summer day?"
It turns out it was the start of the nightmare that many in the Merrimack Valley would live through for months: Columbia Gas workers had inadvertently over-pressurized the gas lines feeding over 8,000 homes resulting in many fires and explosions across three communities, and the unfortunate death of one young man. As firefighters and police scrambled to save the city, a safety and security decision was made to cut power to all of South Lawrence, including our office.
The Show Must Go On
As the night wore on, emails from Abel Womack's team started coming in asking if we could be open for business the next day. The Mayor had issued an evacuation order, so the initial answer was no since nobody would be allowed into the city. But we had a business to run. With most of our servers located in the Lawrence office, our Wallingford, CT and Edgewood, NY offices would only be able to perform the most basic functions without support.
Quick Thinking and Some Ingenuity
Separately, our IT Manager and I both got back into the city to see what we could do to support the other offices. We had recently begun testing with some 8210 pallet truck batteries as backup to our regular UPS batteries. We were initially disappointed with the results having only gotten just under four hours of run time out of them.
Fortunately for us, we recharged them, but we never reconnected them after the test. We knew we had fresh batteries and could get our server room up and running for four hours. However, we also needed to get our internet routers powered up. Those are located in the DMARC in our shop – right next to the dock door. And, as luck would have it, our IT Manager drives an electric vehicle! We brought his car into the shop and connected the batteries to an inverter, and we were able to power up our routers.
Success! Our other offices were back up and running.
24-Volt Batteries to the Rescue
Eventually, the batteries in the server room started fading, so we ran a couple of extension cords from the inverter back to the server room and powered up a couple of servers so our other locations could finish out the day.
Once the dust settled and power was restored late Saturday afternoon, we set out looking for a plan to get something more robust and automatic to ensure our server room would power through in case of another emergency.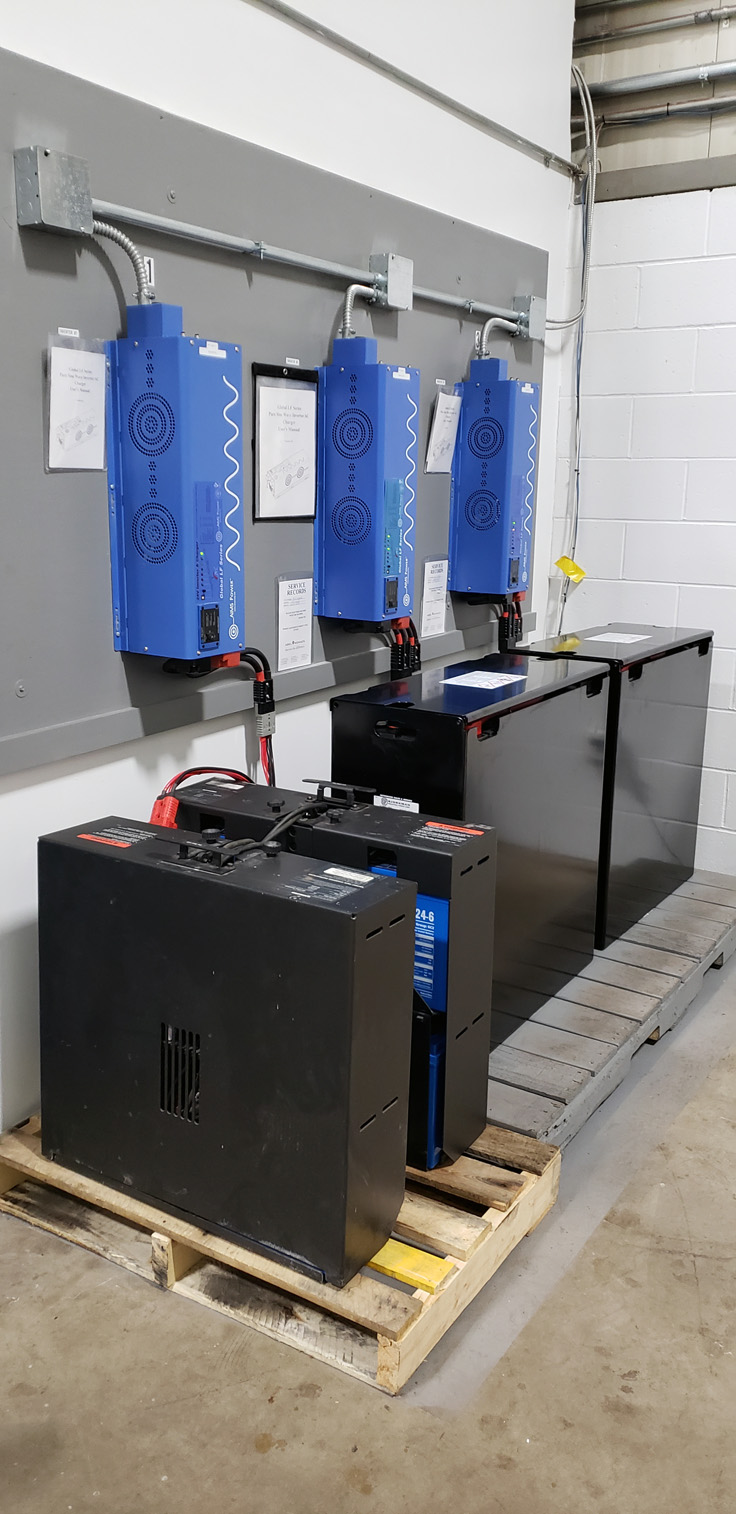 We eventually settled on three pure sine industrial inverters. Each one is connected to its own circuit and battery for a total of 14,000 watts from:
2) 24-volt batteries from Raymond 8410 Walkie Rider Forklifts
2) 24-volt batteries from Raymond 8210 Walkie Pallet Trucks
Each inverter can charge the batteries connected to it, as well as switching from AC power to DC in less than 10 milliseconds. Each has its own battery and circuit. Each circuit supports multiple servers, our phone system, alarm system, and all routers and switches.
Essentially, we designed and built three large scale UPS battery systems to run our server room and DMARC. While a standard UPS will give you about 10 – 20 minutes of runtime, our version should give us close to a day. And, with a warehouse full of forklift batteries, we can effectively keep our office up and running for days or weeks, if needed.
A True Team Effort
A special thanks goes to our National Accounts Service Manager, with his background and knowledge in engineering and mechanics, for conceiving this plan. And to our Facilities Manager for putting all of it safely together. All of this could not have been possible without their help.
While it was great to see our team come together to accomplish a goal, it was even more impressive to see the city of Lawrence, and our neighboring towns of Andover and North Andover, do the same. As a resident of Lawrence, and a member of the Abel Womack team, I couldn't be prouder of where I'm from. This also proves that if your business has a need for something uncommon, or you have a unique challenge to solve in your warehouse, chances are Abel Womack can dream up a solution and make it happen.