July 13, 2020 –
When it comes to running a successful, clean, and safe cannabis facility, many critical factors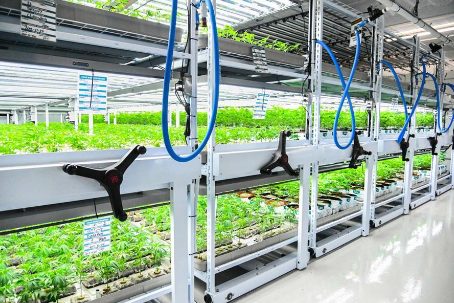 come into play. From maximizing space via the number of tiers to keeping the facility clean to operating within your license to forward-thinking and forecasting for growth and expansion, it is critical to have all of your bases covered, especially if you are new to the cannabis industry.
Keep these factors in mind for your indoor growing facility:
Should I Implement Vertical Farming?
Vertical farming is the biggest generator of an increased revenue stream for a cannabis facility, but it comes with complex considerations. Set yourself up for success as you move down the vertical farming path. Know upfront the following details that are specific to your cannabis facility:
How low are the lights?
How many tiers?
What is your vertical clear space?
What are the warehouse restrictions?
How is the airflow system set up, and what are the specific needs (i.e., flood trays and air filtration to control humidity and temp in microclimates)?
How high would you like to go?
What is your aisle width?
Having this information beforehand will help you be most efficient when you begin working with a material handling solutions provider.
Space Maximization Considerations
The more tiers you have, the larger the cannabis facility operation. Growers obtain licenses with different limitations based on square footage. If you begin to build up, you can double your space, which is especially important in urban areas where you may not be able to expand your footprint. Everyone has their own process regarding growing cannabis; we can help you maximize the use of your space by growing vertically.
Employee Safety
Employee safety is paramount, even more so in this COVID-19 world. A cannabis facility with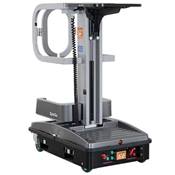 vertical farming requires more than just a simple ladder for employees to move about to check on and maintain the crops quickly and safely. One option to consider is mini scissor lifts, which use a manual push button to raise and lower, helping keep your employees safe while maintaining an ergonomic and efficient workflow in all your different rooms.
Cannabis Facility and Product Safety
Another critical component of a cannabis facility is the safety of the facility and products
everywhere from the dock to the home. Growers must be aware that chemicals and pesticides are not allowed, maintain optimum facility cleanliness, and ensure that the facility is up to code.
How it's Done
Set up is easy! Once you have the ideas above about your specific needs, space and license limitations, you will provide a CAD file that we put into our software program. From there, we design a layout based on our expert recommendations from experience in the cannabis facility space. We will provide you with a variety of options to determine what fits your facility best so you can maximize your space, safety, and efficiency.
A Complete Solution
Abel Womack brings considerable experience to our clients from the beginning of the indoor cannabis facility process throughout the duration. We support our clients with storage solutions, long-term maintenance and daily assistance. Additionally, Abel Womack has Tennant floor scrubbers that use ec-H20TM Technology instead of conventional cleaning chemicals – a big plus for those in the cannabis industry. We offer a variety of options to cover all your cannabis facility needs so your business, and profits, can grow.
Need more information on how Abel Womack can help you safely and efficiently maximize the space for your indoor cannabis cultivation facility? Please contact our specialists today.