February 20, 2017 –
Like most high-volume warehouses, there is a likelihood that your selectors are placing multiple orders. While several orders are being placed at once, it's also probable that some are being distributed incorrectly. Let's consider the cost of these mis-picks to your company.
Let's say your operators picks 1,000,000 cases a week with 99% accuracy. At first blush, this may seem great but 1% mis-picked cases per week is 10,000 cases. That adds up to 520,000 mis-picked cases per year. What if each error costs $10? That's a total net loss of $5,200,000 a year! And let's not forget about your customer dissatisfaction with all the errors.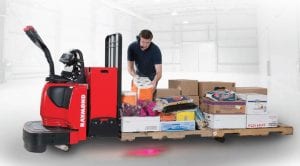 Clearly, achieving near 100% accuracy is the goal, it has just not been cost effective. That's why the Raymond LED light system has been expertly designed to help reduce picking errors by using LED technology to visually reinforce product placement for order fulfillment using pallet jacks. It's a great way to increase production and picking accuracy for single fork pallet trucks with voice pick technology, and for A-B batch picking using voice pick technology.
By directing operators to the desired customer pallet, Pick2Pallet TM allows them to quickly move on to the next pick with confidence, maximizing productivity by 20%! It also typically results in a 25% error reduction rate, saving the money it would cost to replace the item if a customer has been shorted, and the loss of revenue for items shipped to the wrong customer.
So, what is the Pick2Pallet?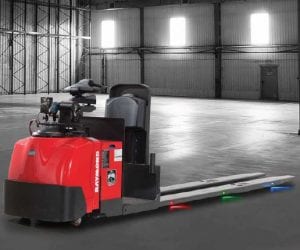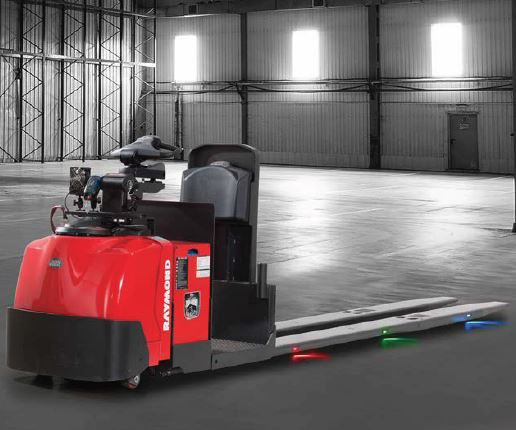 The Pick2Pallet features long lasting multi-colored LED lights embedded in the forks of a Raymond pallet jack. This new LED feature has a life expectancy of over 20,000 hours. The new technology works well with plastic cone legs and wood pallets.
How does it work?
The Pick2Pallet is connected to a paperless Warehouse Management System (WMS). The WMS is then connected to any form of voice picking equipment and works with a Raymond 8410 end control jack or the 8510 center control pallet truck. From there, the voice pick receiver tells the operator exactly which slot to go to, what part to pick, how many pieces to pick and what customer pallet to place the product on. The LED lights reinforce that the operator is in fact placing the product on the correct pallet. Once the task is complete, the operator simply responds "task complete" and moves to the next pick. If anything was picked incorrectly, the receiver would immediately alert the operator, thus ensuring nothing is ever picked erroneously.
The benefits
Working directly with our customers, seeing and understanding their pain points, allows Raymond to continuously improve their products and provide innovations that deliver results. Thanks to this new Pick2Pallet LED technology exclusively offered by Raymond, operators and warehouses can ensure accuracy in their operation.
Let's go back to our previous example and say you reduce picking errors by 25% using the Pick2Pallet. That's 130,000 saved cases for an annual savings of $1,300,000. Warehouses can't afford to not be using this new addition to an already-efficient machine.
Want to learn more about how you can benefit from using the Pick2Pallet? Leave a comment below or contact your local Raymond representative today.