April 26, 2021 –
Automated guided vehicles (AGVs) have been around for many years, but compared with the new wave of autonomous mobile robots (AMRs), how do they stack up in terms of productivity, flexibility and payback?
What makes an AMR different from an AGV?
While AMRs and AGVs serve similar functions in manufacturing, warehousing, and logistics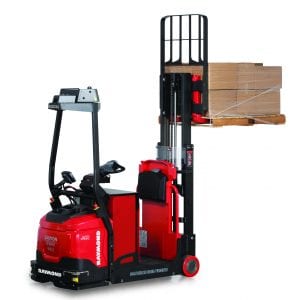 facilities, there are distinct differences in how these robots operate. The critical difference is whether any explicit infrastructure is required to navigate, and how that enables flexibility over time.
Like AMRs, AGVs also are driverless industrial vehicles used to transport materials within a plant or facility. Many AGVs navigate based on built-in physical infrastructure or landmarks, following wires or magnetic tape embedded in the floor or using lasers with reflectors placed throughout a facility. The first AGV dates back to 1954. Mac Barrett of Barrett Electronics is credited with inventing the world's first AGV which tracked a signal in a wire mounted on the ceiling. Soon after, wires were installed in a slot in the floor.
Infrastructure-based AGVs reliably follow paths, but if circumstances or workflows change within a facility—such as increased demand, new product lines, or workflow adjustments—the built-in infrastructure would need to be altered or even completely rebuilt. This could result in extensive production downtime and additional cost, impeding continuous improvement efforts.
With the advent of Seegrid's proprietary vision systems that the Raymond Courier uses and with LIDAR becoming more mainstream, some AMRs can now provide the flexibility to change routes without any fuss or cost.
AMRs have the advantage of technology to adapt
Navigation and autonomy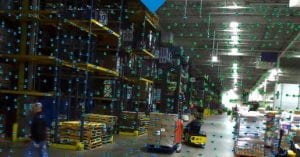 Using Seegrid's core, proprietary technology on reliable Raymond pallet trucks, tow tractors and stackers, self-driving vehicles see the world with camera-based 'eyes' that capture and build a detailed 3D map of their surroundings. This reference model enables the vehicle to consistently position itself in its environment no matter how complex or dynamic.
Situational awareness
Vehicles scan the surrounding environment from floor to ceiling, giving them a distinct advantage. When

working, self-driving vehicles detect people and objects in the environment as well as the relative trajectories between themselves and those objects. This sensing and detecting capability ensures collision avoidance so that self-driving vehicles can safely work alongside humans.
Contextual action
Self-driving vehicles reliably perform complex tasks in dynamic, collaborative environments. As the vehicles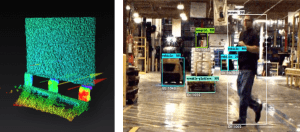 become more adept in understanding the context of their environment, they will continue to expand their capabilities and capacity for intelligent response to emergent situations.
Supply chain pressures continue to become more demanding and complex. Investing in an automation solution that allows for flexibility to easily make changes for ongoing needs without completely overhauling, creating downtime, and overspending is crucial. Change will always play a factor, whether it's planned or unexpected. AMRs provide proven flexibility and support to quickly adapt to changes in the marketplace, customer demands or corporate directive.
AMRs can perform many tasks within a facility. The most common task is the transportation of pallets from one location to another or the towing of carts that feed manufacturing cells, deliver WIP from one cell to the next, or deliver finished to shipping. Whether transporting pallets or carts, AMRs can autonomously pick up and drop off the load without any human intervention.
What's next in the world of AMRs?
AMR lift trucks are designed especially for companies that require an automation solution

that can haul payloads from one point to another, placing them at heights of up to six feet with little or no changes to their facilities. These AMR offers a safer, more cost-effective method for pallet movement by freeing up the manual lift operator and automating the task for low-lift pallet handling processes.
Some of the new AMRs on the market also feature Auto-Charge. This feature allows the truck to operate normally during its shift and, at the end of its shift, park itself over a self-charging pad. This removes a costly and dangerous human touchpoint by automating the scheduling, dispatch, and charging of your AMRs to keep your operations running 24/7.
Could an AMR be your next new hire?