April 17, 2017 –
In a previous blog, we reviewed options for automation from a simple auto-guided smart cart to fully automatic storage and retrieval systems (AS/RS). Today, let's review the use of this type of equipment coupled with robotics, and why robotics can be an integral part of AS/RS technology.
What is AS/RS?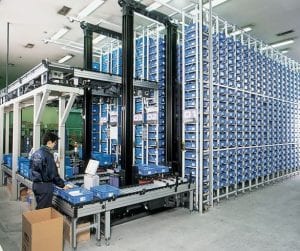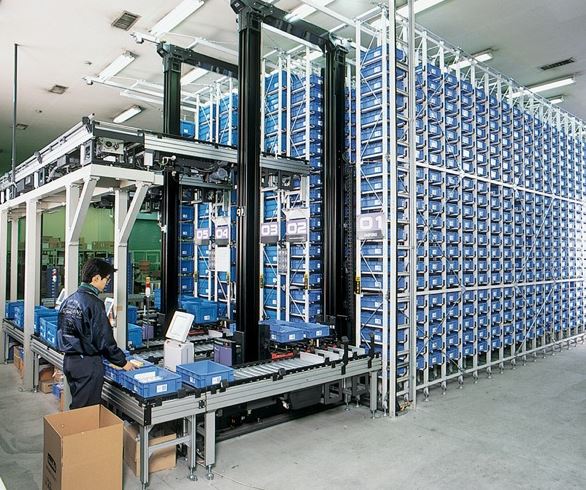 First, let's define AS/RS. Basically, it is the automatic, unmanned storage or retrieval of either a case or pallet. Typical applications include:
A forklift operator putting a pallet on a conveyor which leads to an AS/RS system. This system would scan a bar code or RFID tag (for identification purposes) and pick up the pallet and store it in an opening somewhere within that rack system. Eventually, when the pallet is needed, an operator or the WMS simply requests this stored pallet and it gets delivered to a specific pick up area.
An AS/RS for cases or totes is known as a mini-load The same basic principle applies. Cases are automatically delivered via conveyor or manually inducted into an AS/RS system. A bar code or RFID tag identifies the case and stores it within the system until the case is needed for future processing. Mini-load systems make great buffer areas as well.
A System that Delivers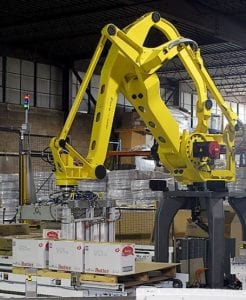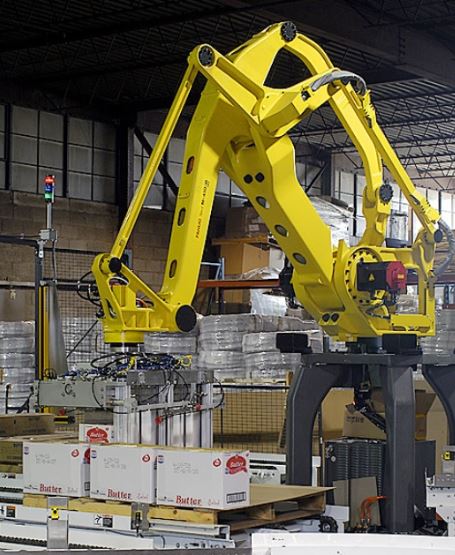 By now you can start to see the value of a system that stores items automatically for you but, at the click of a button, can deliver that case or pallet to a specific location.
So, we now move back a step to the production line. This is where it all starts, cases are filled with product by a person. Once a case is filled it moves down to the end of the line to be palletized by yet another person. You may ask the question, why do we have people doing repetitive tasks? Imagine cases being filled by robots and then the case going to the end of a production line where one of two things happen. First, the case could continue into a mini-load system to be stored until needed for future processing, or it could continue to another robot that takes the case and places it on a pallet sitting in wait on a conveyor system. This task is repeated until the pallet is full. The pallet is then released and is transported via conveyor system into an AS/RS system that puts it away until it is needed.
Imagine for a minute you've just removed several touches within the line. We all know that every time a case is touched the cost increases, but more importantly you just reduced operator risk by having robots do the repetitive task for you, potentially saving in workman compensation but definitely providing those workers an opportunity to perform less stressful and more rewarding work.
Automation Boosts Overall Productivity and Efficiency
The goal of automation is not to eliminate jobs, it's to eliminate risk and by eliminating risk you can increase productivity. Process times decrease, cost goes down, and profits go up while maintaining a safer work environment. Sounds too good to be true? Trust me, without automation you will have a hard time competing in the current market that demands product quicker and less expensive.
As a full line FANUC Robotics Integrator, Daifuku/Webb AS/RS dealer, coupled with the engineering and design capabilities, we can bring you into the future now. Give us a call or leave a comment below. We would be glad to review your current operation and make suggestions to help you improve it.