June 26, 2017 –
Just the other day I was walking with a client through their warehouse and discussing his challenges. He indicated that his biggest problem is one most warehouse managers experience; lack of storage. Without hesitation, I knew exactly what technology he needed, but currently doesn't have; the Radioshuttle.
Together, we created a plan to optimize his storage space and overall efficiency using Radioshuttle on a mezzanine to fit more pallets over his shipping and receiving area. Thanks to the Radioshuttle technology, this solution is doable and cost effective.
Application Benefits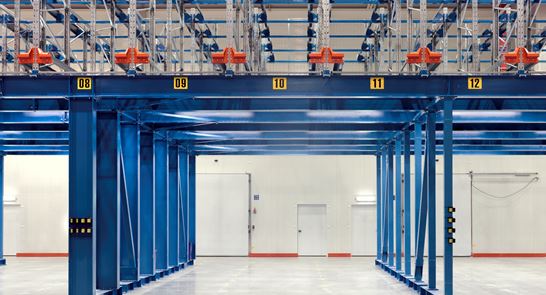 The benefits of the Radioshuttle are twofold. First, the Radioshuttle excels in terms of efficiency and cube utilization, and secondly, organizing and creating space in congested shipping/receiving areas. As you can see, this design permits normal lift truck dock operation while providing significant ancillary storage above.
Being in Two Places at Once
The beauty of the Radioshuttle is that it's compatible with all existing technology and equipment. Warehouse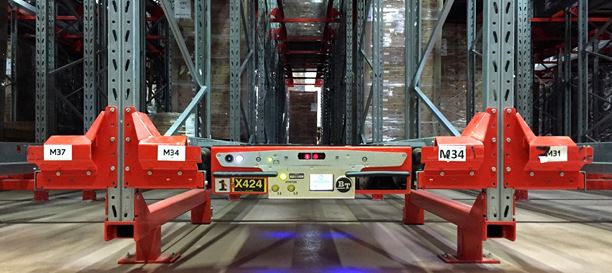 managers will not need to buy new forklifts to benefit from this system; it's ready to go right out of the gate. Not only is it cost efficient, but it maximizes how time is used in the warehouse, which translates into reduced labor costs.
When operating a warehouse at maximum efficiency, it's almost like you want your operators to be in two places at once. The Radioshuttle makes this possible by being dispatched and sent to work via a handheld remote by the forklift operator. Then, while the shuttle is retrieving or loading pallets, the operator can go work elsewhere until they need to come back. This is a huge benefit for the shipping and receiving area as it not only increases storage capacity but creates a defined process in lieu of the usual inefficiencies.
Shipping and Receiving
The shipping and receiving dock of most warehouses can get chaotic. It might seem like a sea of pallets have been laid out and aren't moving as fast as new ones are coming and going. The Radioshuttle solves this problem by keeping pallets organized. Just like my client, putting the Radioshuttle on the mezzanine will allow you to store pallets off the ground so your operators can handle business faster by keeping the shipping and receiving area clear and organized.
Manufacturing and Distribution
The organization and time saving qualities of the Radioshuttle are not only limited to shipping and receiving, but they also can be utilized in manufacturing. Radioshuttle can transport finished goods from manufacturing to distribution, and incoming raw materials to manufacturing from receiving. The length of the system is virtually unlimited. It is easily loaded on one end of the system and unloaded at the other end. Since the shuttle replaces some of the transportation requirements handled by forklift operators, it may actually lead to a reduction of the number of trucks and operators you require.
To the Future and Beyond
Another benefit of this technology is that it can be integrated with other new technologies as they come available. Most warehouses are becoming more automated and the Radioshuttle can interface with cranes and other automated devices to load and unload- a highly efficient approach with minimal direct labor and lower error rates.
Companies are finding great benefit in using the Radioshuttle and it's clear why. It speeds up your operation, maintains selectivity, increases storage density and allows your operators to do two things at once. It's one of the great new technologies, as it has so much going for it.
Radioshuttle is now sold and serviced exclusively by authorized Raymond Sales and Service Centers throughout North America. Abel Womack is the exclusive integrator in the Northeast US. Contact us for a Radioshuttle consultation in your warehouse or download the Radioshuttle Guide here.