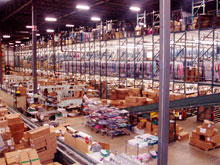 To enhance Appleseed's (Orchard Brands) capacity for continued growth and service to their expanding client base, Abel Womack has designed and implemented a variety of improvements to their Beverly, MA facility.
The improvements have increased the distribution center's storage capacity as well as allowed the company to double its throughput while maximizing space within the facility.
The projects included:
Installation of a new Hytrol conveyor system with weighing and motion scales to automate the shipping system
The addition of a second conveyor resulted in a doubling of the facility's throughput
Installation of a new 66,000 SF, 3 level Unarco pick module with another weigh and motion system. The module consisted of bulk storage and hanging garment racks
Raymond Orderpickers with guidance wire sensors for the bulk storage area
Installation of 600 bays of new shelving
Installation of a new receiving conveyor system with 2 vertical reciprocating lifts
Renovations to facility resulted in 6,000 SF of new packing floor space
Click here to see which Raymond Lift Trucks are best suited to the Retail and Apparel Industry.
Click here to view other Case Studies.