Automation drives innovation, market growth for automated guided vehicles
At the end of April, MarketsandMarkets published a report titled "Automated Guided Vehicle Market by Type (Unity Load Carrier, Tow Vehicle, Pallet Truck, Assembly Line Vehicle), Industry Verticle (Automotive and others), Application (Transportation, Distribution and others), and Geography — Global Forecast to 2020," which stated the automated guided vehicle (AGV) market is expected to reach $2.2 million by 2020, growing at a compound annual growth rate of 9.8 percent between 2014 and 2020.
With the increase in industrial automation, the requirement for automated material handling also is expected to grow proportionally, in order to support this growth, according to MarketsandMarkets in a press release.
"The automated guided vehicle market is expected to benefit from emerging market investments that are enhancing the industrial infrastructure and facilities, while the developed markets are expected to continue to invest in more efficient material handling systems and procedures, which offer better and more efficient ways of material handling," the company says.
Experts agree with this estimated growth in the AGV market saying there's more to come. "Demand has increased, but still in small usages versus the potential applications," says Brad Moore, vice president for AGV Pick at Buchs, Switzerland-based Swisslog.
Greene, N.Y.-based The Raymond Corp.'s Product Manager of Automation, Rudi Koetter, also agrees saying, "There's a clear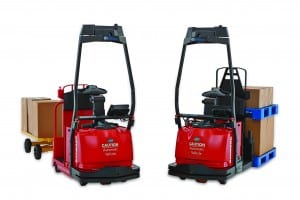 upwards trend in AGV system sales in the last year."