June 13, 2022 –
Over the past 5 years there has been a broad industry discussion centered around the Class 3 Market for electric forklifts. Specifically, the best configurations for ride-on pallet jacks used for loading/unloading and order picking in warehouses and distribution centers.
The 8410 – Raymond's End Control Ride-on Pallet Jack once dominated the market due to the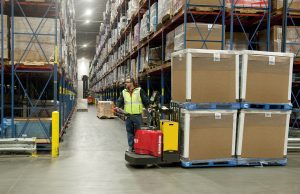 quick, easy access onto the jack and maneuverability in and out of trailers. Very rarely did customers inquire about purchasing anything else and likely it was not on the mind of the Account Manager either. Fast forward to today and we are seeing our highest interest in the 8510 – Raymond's Center Control Ride-on Pallet Jack.
Operational Impact
So, the question becomes what is actually driving this shift? The biggest thing that comes to mind are Safety/EHS groups are much more involved in purchasing decisions for our products than ever before. As we've seen, anytime there is any sort of injury in the warehouse, the human and dollar costs can be significant.
Both Sides of a Ride-on Pallet Jack
While the 8410 is inherently safe to operate, an injury to the lower leg can occur if operators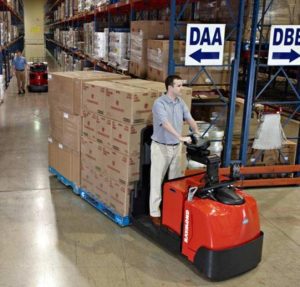 hang their feet off the edge of the jack and/or hop off the platform to order pick while the truck is still moving. That move can result in turning an ankle or having the moving truck run into the operator's foot/ankle. Both are avoidable but can occur if the operators don't adhere to their training and operating protocols. To try and mitigate that issue, a move to the 8510 might help.
With the center controlled 8510, the operator rides in the center of the unit and not on the end like the 8410. While this does not eliminate potential injury if the operator is careless, its configuration might mitigate some of these issues. It is worth noting that the 8510 is a bit bulkier, has a longer turning radius and is more difficult to use when it comes to dock work and going in and out of trailers.
Another reason we might be seeing a shift to the 8510 is the option of purchasing Raymond's Advance Order Picking System that is only available on the 8510. Here is a link to this cutting-edge option that can make an operator pick up to 20% quicker and more efficiently!
Need More Persuading?
It will be interesting to see if this trend continues towards the 8510 versus the 8410. Given the lead times, that also could factor into a customer's decision-making process if they simply cannot wait on one model versus the other. Stay tuned!