September 8, 2015 –
The Raymond Corporation is introducing a new lift truck: the 8210 Walkie Pallet Truck featuring AC technology and a host of industry leading features.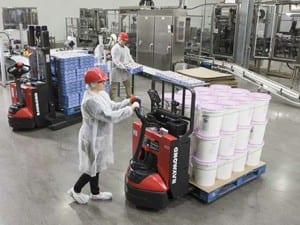 Replacing the 102XM, this electric pallet jack offers ergonomic design and superior handling for smoother, more precise operator control when navigating in tight, congested areas.  It is ideal for stores, delivery vehicles, docks and food processing applications. And with its rock solid design, it's made to run with fewer problems and last longer.
New features include:
IP65 Protection of Electronics
With this new feature, problems with wet conditions are in the past – no more plastic bags over the handle to keep the electronics dry. Because rain and electricity are never a good combination, this feature meets the highest standard in the Lift Truck Industry for water and dust protection, in addition to a range of options for even harsher environments.
Exclusive Lift and Go™
This configurable technology prevents unnecessary wear to the underside of forks by encouraging the operators to raise the forks to prevent undercarriage contact with dock plates and lift gates.
Fewer Maintenance Points
◦ Hall Effect Sensors – parts never touch or wear – replaces potentiometers.
◦ Stainless steel undercarriage pins prevent corrosion in wet applications.
◦ Repositioned casters will allow for better operation on lift gates.
◦ Composite bushings are Teflon coated and never require greasing.
Reflective Logos & LED Light
New reflective materials are ideal for low-light applications and help to serve as a marker for oncoming traffic. Optional LED lighting enhances visibility in dark places.
Brake Release
Easy-to-access electric brake release on the top of the console. This standard feature overrides the electronically engaged braking system to allow the 8210 operator to manually move the unit in the event of any issue, like the battery becoming discharged.
Click2Creep
When the handle is in the full, stowed, upright position, the operation of the pallet truck is available at any preferred programmable speed. This is huge in terms of operator control in the most compact, demanding areas. This walkie can turn a pallet at 90 degrees, allowing the operator to easily "pinwheel" pallets in tight spaces, especially in trailers. Just push a button on the handle and the system is engaged.
ACR SystemTM Technology
Improved energy efficiency and few moving parts means less-frequent maintenance and fewer battery changes—lowering your total cost of ownership.
Additional Features
While the 8210 boasts a new look, color scheme and updated lines, it also offers an optional magnetic storage tray above the battery compartment, perfect for storing paperwork and other items needed for the tasks assigned to operators.
The 8210 walkie pallet truck power package offers a better fit in industrial applications with simplified accessibility and charging.
Would you like to increase your productivity and operator efficiency? Tell us in the comments below which trucks you're currently using and if we can help you with an upgrade.