April 25, 2016 –
Warehouse racking systems are a crucial element of any operation. No matter what you're storing, racking systems can be customized to fit your specific application. Whether your business is growing and you need to store more goods, or your day-to-day operation has changed and you are considering rack storage solutions, who do you turn to?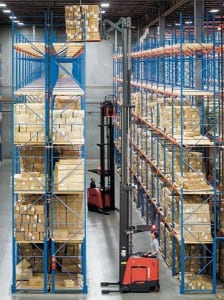 Your forklift supplier may not be first on your list to call for storage racks but maybe they should be. More than any other commodity, your time is your most finite resource, and managing warehouse efficiency is becoming more quantifiable every day. To better capitalize on both your time and management efficiency, consider these benefits to bundling your forklift and racking solutions.
Authorized Forklift Supplier
Working with forklift suppliers who already have in-depth application knowledge of both your forklifts and racking equipment cuts down on the number of phone calls you have to make in a day. Most forklift suppliers are extremely knowledgeable when it comes to warehouse operations and configurations, and they will be able to help you effectively plan and organize your space.
Layouts
When it comes to properly planning your space, forklift experts understand the do's and don'ts better than most. When you bundle your racking and forklift purchase into one, you can coordinate your warehouse racking and storage layout with your lift truck types for seamless and more efficient product storage.
Single source vendors
Just from a logistics standpoint, combining your vendors for racking and lift trucks makes purchasing, billing, scheduling and installing all much simpler. Steer clear of holdups and costly downtimes by managing everything with one call.
Timing
Timing is everything. When you work with one provider, you can ensure that products are in stock and delivered onsite without delaying or halting production or deliveries. If you have an issue with equipment, a single source provider can also offer rental equipment to get you through the down time.
Protect your assets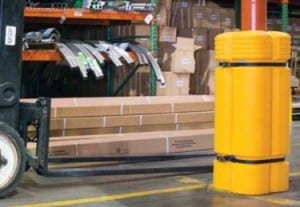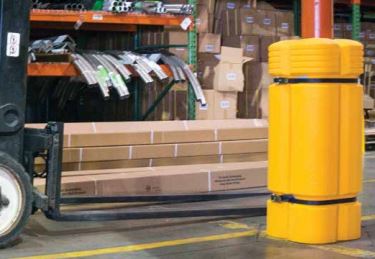 Rack damage is costly and even dangerous. Your dealer should provide damage prevention products for your rack, including bollards, guard rails, column guards and barrier systems, and impact management tools for your forklifts.
Strengthen your partnership
Your forklift provider already has an understanding of your business and your needs. They will be able to offer great advice and counsel on how to improve your systems and productivity, providing additional information on new product lines, technology, rental equipment, storage solutions, racking options and more.
You can always find lower prices elsewhere if you spend all of valuable time looking, but by combining these efforts, not only do you gain expertise and support for your products, but bundling these together can actually save you time and money. To learn more about bundling your warehouse products, talk with your forklift supplier rep today!