April 12, 2021 –
ProMatDX is the leading material handling and logistics tradeshow of the year. Starting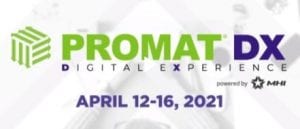 today, you can experience numerous virtual events, including seminars, company showcases, product demos and even networking opportunities that you need to improve your operations. Here are a few reasons why you don't want to miss it.
Registration is free. That's right. If you couldn't make it to Chicago to experience this incredible event in the past, now is your chance. Just register here to gain access to the latest innovations in the material handling and supply chain industries.
It's virtual. Watch, listen and learn from the comfort of your office. View the jam-packed schedule and attend the educational sessions that will help get you the answers you need.
Educational seminars. With so many topics to choose from, you're sure to find several that interest you. The hard part is choosing. Experts from various companies will discuss important challenges and present the latest products and technologies to address them.
Videos. If you're more of a visual person, there are plenty of videos to watch. Learn more about a company and see their products in action any time throughout the show.
Networking opportunities. Once you've had a chance to watch, listen and learn, you may have more questions or want to dive even further into a specific solution. Sponsors are offering virtual chats on their page or you can schedule a meeting for a more in-depth conversation at a more convenient time.
Ready to attend but not sure where to begin? Here are a few personal recommendations to get you started.
Optimize, Connect, Automate 3.0 Seminar 2:00 pm-2:30 pm EST on Monday, April 12th
Automated solutions can help to increase productivity, address the labor shortage, and reduce operator density. However, it is important to first optimize processes and procedures to get the most out of automating.
Increase Throughput with Frame Pick Product Demo 1:30 pm EST on Wed., April 14th
To support fast paced order picking, operations need to meet increased demand. Kardex Remstar has created a new high throughput solution. Frame Pick combines pick carts, put frames with put-to-light displays and ASRS for maximum throughput. The operator can easily connect the order bins on the pick cart to the display monitors with a simple barcode scan. This new solution can reduce walking distances by up 65%, increase throughput and reduce floor space by 80%.
Raymond Courier Automated Lift Trucks Product Demo 12:00 pm EST on Friday, April 16th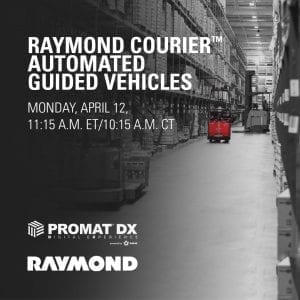 Labor costs can account for up to 74% of a lift truck's operating expense. The need to maximize labor resources is more critical now than ever. Raymond's flexible automation solutions offer a way to reduce labor costs, improve productivity and get the most out of your workforce. This demo will look at the exclusive vision-guided Raymond Courier automated lift trucks— a line that includes automated stackers, tow tractors and pallet jacks that offer quick commissioning and are operational Day 1.
Discover new ways to meet the demands of today, and tomorrow. Don't waste another minute, register now for ProMatDX and get started.