December 9, 2019 –
Excitement is in the air as you're about to install pallet rack in a new warehouse, setting your organization up for the future. It's about time for new products to hit your warehouse and begin flying off of the perfectly racked shelves.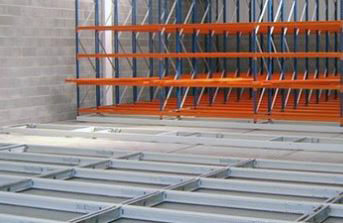 Lay the framework
That is, as long as you've properly racked your new space. You know what you're doing, right? We ask that because there are common mistakes we see with warehouse racking systems that can cost organizations time and money. You don't want to be one of those organizations. Here's a handy checklist to make sure you're not.
Do you have the correct aisle size? Do you know what size your aisles should be? Do you know what size your aisles will need to be in a year — or five — when you've grown at the pace you've set? The aisle should not only accommodate the turning radius of one truck but provide the ability for trucks to pass each other as throughput increases.
Did you hide the building columns? All columns aren't the same, and unless you've consulted with experts, you might have columns placed in spots that take up valuable space in your warehouse. Even worse, you might end up with columns protruding into the aisle, setting up opportunities for impact with trucks. Ideally, the columns in new facilities should accommodate the racking layout rather than the other way around.
Did you set yourself up for success or failure? Did you lay out your racking in a manner that makes it easier or harder for future growth? Laying out a new racking system for what you need NOW isn't necessarily the best approach. You need to lay out your system in a way that allows for future growth without having to reconfigure the existing layout.
Did you protect your racks? You'd be amazed at how many warehouse operations choose to save $100 here or there and not deploy racking upright and end-of-row protections. We tour many active warehouse operations, and we're always amazed at how many times we come across beat up protection products but see pristine racks immediately behind them. These damage prevention products work, and they can save you thousands of dollars in the long run.
Leave room to grow
A lot goes into properly racking a warehouse. You need to know your requirements for the here and now, but just as importantly, you need to know what your future growth plans are. If you worry only about what you need now, you're likely going to set yourself up for aggravation, costly expenses, and even downtime down the line.
Abel Womack has been in the materials handling business for almost 100 years. Our material handling experts have seen it all and done it all, so we know what your warehouse operation needs and how to project what it will need in the future. Contact us today to speak with our team before designing and laying out your next racking system.