June 6, 2022 –
I'm a dog-lover, but when I say there are several ways to "skin a cat," I hope you can understand I'm not promoting violence against animals (or pet haircuts). Instead, it's following the old saying where there are often multiple ways to accomplish the same task. Goods-to-Picker (GTP) solutions are no different.
As we look towards the rest of 2022 and beyond, it's a good idea to get on solid ground with the understanding of the offerings available, but more importantly, an understanding of the tasks you're looking to accomplish. To do that, let's push the refresh button.
GTP+F5 (Goods-to-Picker Refresh)
Question: Goods-to-Picker? I thought it was Goods-to-Person?
Answer: Both are correct, but with the advancement of technology, the labor market (shortage), and at times, combined with the business needs of a company… you may need to automate the person picking. As such, many of these automated GTP solutions can work alongside picking robots. Or the items picked by the GTP solution can be placed directly on an outbound conveyor or similar. Thus, alleviating the need for a person to interact with the GTP solution until necessary. So, Goods to Picker is more appropriate.
As we hit "refresh," it's good to have an idea of why GTP solutions came about.
Why Art Thou, GTP?
Before GTP there was PTG – person/picker to goods; this is when the operators, employees, or team members would move throughout the facility to pick goods. You remember this… operators walking down long rack aisles and hating it until the creation of step-counting watches, phones, and commercial diet plans.
Before GTP we automated the picker with the technology available. This could be as simple as adding a picking cart, cherry-picker, forklift, or even mezzanines, where we could restrict employees to certain floors depending on need.
Before GTP we lost storage space – if you have a weird corner or angle in your building, we can't put rack there or get a lift in there, so you just lost that space. Is that a column right where we need the rack bay? Well, you just lost pallet space. You don't have good forklift drivers? Well, you need larger forklift aisles to keep from replacing the rack frames… you just lost space.
Before today's GTP (and AS/RS systems), the conveyor was GTP – though, it likely took up space that wouldn't allow forklift traffic or took up space to stay out of the way of forklift traffic for other operations at the facility.
There are several key factors to the creation of GTP solutions and by no means is this list all-inclusive. However, the following can be considered as the main reasons we arrived at (and should incorporate) GTP solutions:
1 – Space Need
Whether it is because of business growth, oddly shaped buildings, column separation or any multitude of reasons, space is a premium in most facilities. There are specific GTP solutions, like the AutoStore solution, that exist to solve those constraints. It is always good to know why a purchase was made – usually tied to ROI – and is usually tied to solving a specific issue. Not all GTP solutions were made the same or to solve the same issues.
2 – SKU Velocity (Throughput)
Another factor to consider when there's business growth is the speed of the products coming into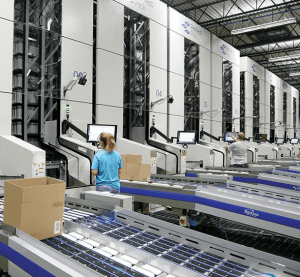 and going out of your facility. Sometimes, the answer isn't a bigger facility when the SKU count hasn't increased. Better said, if you see yourself running out of space, is it because you've added different products or because more of the same is being ordered? If there's a need for speed, there are specific GTP solutions available to solve these issues. The OPEX Perfect Pick is one of the fastest GTP solutions available but is not made to suit every facility.
3 – Repurpose/Unavailable Workforce
One of the more recently common reasons for the shift to GTP is the ability to repurpose existing workforce to more value-added services, or the fact that several operations are lacking the personnel necessary for their warehouse operations.
Repurpose the existing workforce: There are several repetitive, mundane tasks like walking down aisles and picking product that can be accomplished using GTP technology. A company can repurpose their workforce to more skilled operational tasks: labeling, taping, manifest, palletizing and others. Even most of these tasks can be automated to free up labor for other needs within the facility.
Unavailability of workforce: If it's easy for your company to hire and keep skilled employees, then you should be in the labor-outsourcing business. What most companies are finding is that it's difficult to find reliable potential employees in this labor market. As such, GTP solutions are made for this operational headache, where you can possibly reduce operator-count based on the tasks that are now accomplished by the integrated GTP solution.
Finding the Right Solution
Regardless, if it's one or a combination of the reasons above, it's good to know why a GTP solution (or automation at all) is being considered. These are conversations you should be able to have with your material handling integrator or automation specialist. It's also good to check out our Best Practices blog to find out what can be done before spending the big bucks on a GTP solution.
Partnering with an unbiased integrator like Abel Womack means our only preference for the solutions we design are the client's preferences versus the need to sell a specific type of equipment – like a biased integrator would be contractually obligated to do.
Our consultative approach to system design allows our team to better understand the root-cause of your warehouse issues, and the technology available in our arsenal of material handling solutions to best suit those needs. Contact us if you would like more information.