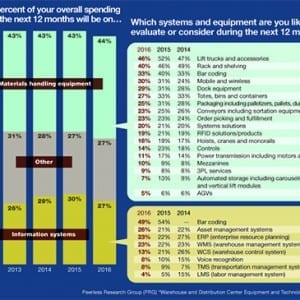 Click here to view original web page at www.mmh.com
Capital expenditure plans for materials handling solutions are ebbing overall, but restrained spending on hardware is balanced by steady investment in IT solutions that tie equipment together.
2015 Warehouse/DC Equipment Survey: Smarter funding for the future Reader Survey: Conveyor technology's silver lining Lift truck user survey: How customers acquire, maintain and replenish their fleets 2014 Lift Truck User Survey: Readers feel optimistic, ready to spend Lift truck user survey: Readers report steady growth Reader Survey: Lift trucks are back
Investment in materials handling solutions in warehousing, manufacturing and distribution facilities has tapered for the first time in recent years, and sentiments suggest changing priorities in the near term.
The results of Peerless Research Group's (PRG) "2015 State of Warehouse/DC Equipment Survey" suggest a significant softening of investments for the first time since the recession. More than 20% of respondents say they are holding off on investments, up from an average of 14% in the previous four years. After 35% said they plan to move ahead with investments in 2015, just 28% still have irons in the fire. However, 20%—also the highest since the downturn—say the economy is having little or no effect on their spending decisions.
According to John Hill, managing director at St. Onge Co., a consulting firm specializing in designing and implementing solutions for manufacturing, warehouse and distribution operations, the survey results are well-aligned with recent Material Handling Equipment Manufacturing (MHEM) forecasts published by MHI.
"After record increases in 2015, new orders and shipments of 6.1% and 7.2% respectively, the outlooks for this year and next suggest caution," Hill says. "Indeed, the MHEM projects that reduced domestic demand will lead to a 13% fall off in new orders in 2016 followed by a 7.8% drop in 2017 with revenues for those two years falling by 6.9% and 4.5% respectively."
Underscoring these projections, ISM's PMI reading for January 2016 stood at 48.2, the lowest January reading since 2009 and an indicator that the economy is declining. "I hasten to add that there are some bright spots," Hill adds.
Respondent demographics reflect smaller companies this year, with average revenues and facility size about 10% smaller than in 2015. About 56% of readers anticipate spending less than $250,000 in the coming year, and average spending continued its decline, shedding 5% to about $327,000 (median $64,500).
Still, among the 41% with a pre-approved capital expenditure budget for materials handling solutions, the average budget is the highest since 2012 at $439,000. A full 30% have more than $1 million to spend, and the 5% increase in this cohort from last year contrasts with a 5% decline in those with $25,000 or less.
Judd Aschenbrand, director of research for PRG, says that although the same percentage of respondents intend to move forward with investments, the anticipated increase is smaller than in recent years.
"This is a snapshot of sentiment in January, and there could be a number of factors behind the curve," he says. "Is it because it's an election year? Is it because the market got off to a rough start this year? Whatever the drivers, there are indications that companies are looking to optimize their available resources and be smarter about how they spend money."
Prudent planning
The survey captures actual spend on materials handling equipment in the previous year and anticipated spend in the coming one to three years. Readers' projections tend to be accurate, if a bit conservative, and this year's forecast suggests a dip in anticipated spending. More than twice the percentage of respondents in previous surveys expect decreased spending in the coming year, by an average of 33%.
Those who plan to hold off on investments in the coming year will pull back on all major capital purchases (51%), capital equipment (27%) software (20%) and lift trucks (17%). Those who intend to move ahead with investments will pursue lift trucks (53%, down from an average of 65% in recent years), and conveyors and sortation (31%, down from an average of 41%).
"Note that some of the decline in conveyors and sortation is likely attributable to the strong 2015 performance in both sectors as major purchases are absorbed into operations this year," Hill says. For example, North American lift truck sales, excluding exports, totaled 225,534 units in 2015, the first year sales were higher than the pre-recession level of 215,000 units in 2006. Information system investment, meanwhile, is consistent with recent years at 49%, although Hill says the mix is changing.
For much of the history of this survey, the "wait-and-see" approach has been the most popular by a large margin. Last year, the percentage of hesitant readers sharply dipped from 43% to 35%, the second 8% drop in a row. It continued falling this year to 31%, down from a high of 50% in 2013. However, those who have finally chosen a side of the fence seem to have settled on the conservative side; 21% are holding off on investing, up from an average of 14% in the previous five years.
Hill says this does appear to be in line with the survey's projected drop in manufacturing capacity utilization from 75% in 2014 to 69% in 2016. "It is curious, however, that in spite of the latter and the macro- and micro-economic signals, a greater percentage (20%) of readers than in prior years say that the economy has little or no impact on their materials handling spending," Hill says. "My guess here is that some were thinking about slowing down major purchases."
The back end moves front and center
An alternating pattern of investment in IT and hardware has become a trend in recent years. Planned spending on information technology suggests many businesses have gotten their asset and hardware houses in order and will continue to focus on execution in 2016. In the next 12 months, 44% of total planned spending will go toward materials handling equipment and 27% toward information systems. Anticipated investments in physical equipment like totes, racks, lift trucks, packaging, cranes, motors and belts have tapered somewhat, while information technology is expected to remain in focus as respondents pursue mobile and wireless capabilities (30%), fulfillment solutions (23%), systems solutions (20%) and RFID solutions (19%).
When asked whether any recent purchases were firsts or constituted a substantial change in historical business processes, 46% pointed to new information technology systems. Only three in 10 said their investments had not impacted the status quo, and 27% reported new business practices based on physical assets like lift trucks, conveyors or automated storage systems.
Among information system solution groups, warehouse control systems (WCS) have seen the steepest decline in anticipated spending over the next 12 months. With only 13% of respondents expecting to invest in WCS in the coming year, the figure is half of the 26% who were interested in the 2014 survey. Voice and labor management also softened, while asset management systems jumped to just more than one in four.
Because labor management system (LMS) modules are now found in all tiers of warehouse management systems (WMS), and since a number of other new solutions like warehouse execution systems (WES) can boost labor visibility, a shifting market could account for the falling interest in LMS from 15% to 4% over the last two years.
In terms of hardware, readers are looking to buy lift trucks and accessories (47%); racks and shelving (40%); totes, bins and containers (33%); and dock equipment (29%). Both bar coding (33%) and mobile and wireless solutions (30%) continue to grow in importance from previous years.

Challenges on the horizon
When asked about near-term trends, respondents reported a heightened concern for capital availability, with more than two thirds expecting to face a challenge in the next two years. More than a third expect to handle smaller, more frequent orders, and 26% anticipate a growing need for multi-channel fulfillment capabilities. The number of respondents that support "buy online, ship to customer from store" has risen from single digits in recent years to 11%, while "buy online, ship to customer from DC" has fallen slightly. This could indicate that the increased focus on IT solutions is aimed in part at managing and leveraging store inventory to improve service levels.
When asked which issues will become even more important in the next two years, respondents predicted increased emphasis on labor availability (63%), which was a concern to only 47% in the 2013 survey. Last year's fourth most cited concern, throughput, fell from 63% to 54%, and now ranks 7th. Training leapfrogged throughput to occupy the minds of 68% of readers, while ergonomics fell to 41%, its first decrease in several years. This could indicate the growing complexity of materials handling, which requires more skill and less physical strain.
Among top concerns in manufacturing operations, respondents reported the highest-ever level of emphasis on labor productivity at 65%, up nearly 10% from last year. Lean manufacturing (59%) continues its steady, years-long rise in importance, as does build-to-order capabilities (53%) and continuous improvement (75%). Meanwhile, just-in-time production, after peaking in 2014, has subsided to become "very important" for just 39% of those surveyed.
For years, as many as 40% of respondents have anticipated the just-in-sequence inventory strategy would increase in importance, but those predictions have consistently fallen flat. Since at least 2013, the same 27% have expressed the practice's importance to their current operations, but forward-looking projections now top out at 31%.
Among top concerns in warehousing and distribution operations, labor productivity is also toward the top of the list (64% now, 69% in two years), but efforts to lean inventories are also primed for growth (54% now, 61% in two years). As predicted in previous surveys, outsourcing is taking off. One in five—twice the percentage of last year's respondents—report outsourcing is currently important to their warehousing and distribution operations. This could explain the lessening concern about reverse logistics (18%), postponement (12%), value-added services (43%) and compliance with trading partner requirements (23%).
Emphasis on workload planning has also spiked to 63%, beating its previous peak of 57%. Similarly, trading partner collaboration has surpassed respondents' past projections, with one third indicating its importance to their operations.
Respondent demographics
In December, Peerless Research Group (PRG) e-mailed survey questionnaires to readers of Logistics Management and Modern Materials Handling, yielding 206 qualified respondents from facilities performing primarily manufacturing (34%), corporate headquarters (27%), warehousing and distribution (22%) and warehousing supporting manufacturing. The median revenue of responding companies is $82 million (average $304 million). Qualified respondents—those managers and personnel involved in the purchase decision process of materials handling solutions—hold influence over an average of 134,000 square feet of warehouse or DC space.
About the Author
Josh Bond is Senior Editor for Modern, and was formerly Modern's lift truck columnist and associate editor. He has a degree in Journalism from Keene State College and has studied business management at Franklin Pierce University.
Subscribe today. It's FREE! Find out what the world's most innovative companies are doing to improve productivity in their plants and distribution centers. Start your FREE subscription today!
Recent Entries