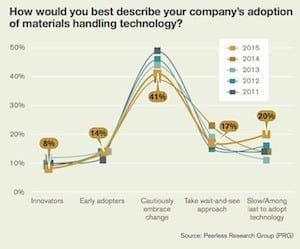 Click here to view original web page at www.logisticsmgmt.com
The journey of supply chain software has seen more hills than valleys in recent years as competitive pressures spur adoption of modern, integrated platforms. Having installed or updated warehouse management, labor or transportation systems, users and suppliers of all sizes are now looking to unify these systems.
"Suppliers' focus is extending beyond the four walls, and many are putting money into providing more than just excellence in warehousing and distribution," says John Hill, director at St. Onge Company. "From their purview of materials management, they are now fine-tuning the connection with all the other elements of the supply chain."
This is one of the many trends outlined in Modern's "2015 Software Usage Survey," conducted in May 2015. To better understand how readers use supply chain software to optimize their warehouse and distribution operations, Peerless Research Group (PRG) surveyed subscribers of Modern as well as a sample of recipients of our e-newsletters. Last year's survey.
The survey results reflect the experiences of those who are using software applications and those who are planning to invest in new solutions. The numbers reflect two main camps, according to Judd Aschenbrand, PRG's director of research. "Last year, 28% of respondents said they were moving forward with investments, and now it's 18%," he says. "At the same time, the average spend is up to almost $700,000, which suggests some companies are moving very aggressively and others aren't."
Both groups share a continued decrease in concerns over the obstacles to a successful software implementation. "The overall decline here is encouraging and suggests supply chain systems convergence and improved integration tools are beginning to make their mark," Hill says. "Of course, there's still a lot more work to be done."
Innovators and investigators
The survey reflects the plans and perspectives of 192 qualified respondents. Overall, one in five respondents feels his or her company is slow or among the last to adopt information technology solutions. This is the highest number in the last five years, and is mirrored on the other side of the bell curve by a growing percentage of companies who consider themselves early adopters.
Hill notes that the combined number of those who wait or are slow to adopt is nearly 22% higher than the average percentage seen from 2011 through 2013. At the same time, the percentage of innovators and early adopters has been trending down since 2013.
"Something is afoot, but I don't believe that it is a bellwether of a broad sector slowdown," Hill says. "We continue to see healthy activity in a number of areas, so it may simply be that companies are still in the midst of deploying the systems they purchased last year. We saw the same thing in the 2012 to 2013 period."
Going forward, respondents anticipate a brief lull in their software outlays. More than half (53%) plan to hold off on investments in the coming year, representing double the percentage in any of the survey's previous four years. But the number who report they are evaluating potential investments and moving forward cautiously (64%) is also nearly double any results from previous years, when it hovered in the upper 30s.
For those prepared for an outlay, not quite half expect to spend less than $100,000 in the next year, a quarter will spend between $100,000 and $500,000, and almost one in 10 anticipate supply chain software spending of more than $2 million. This year's average spending is therefore up to $679,000, a slight increase from last year, but a full 73% above the average spend in our 2012 survey.
The rising average may in part be explained by an increase in the number of survey respondents from large companies. Last year only 17% of respondents represented companies with annual revenues above the $1 billion mark; this year, 26% are at least that big, bumping the average annual revenue of respondents to $681 million.
Usage of software applications
Roughly three out of five respondents are currently using a warehouse management system (WMS), while warehouse control system (WCS) users held firm at 29%. Among the more than half who plan to buy new WMS software, objectives include improved inventory deployment (36%, up from 26%), real-time control (34%, up from 26%), and labor management functionalities (again 25%). Roughly 54% intend to upgrade existing solutions, the same as last year.
Readers already using supply chain management software identified the seven most important initiatives for their current needs. Demand planning (66%) leapfrogged inventory visibility (62%), cited by 10% fewer respondents this year. Procurement (60%) is holding steady as is collaborative forecasting, planning and replenishment (52%).
Those companies employing manufacturing software make up 54% of respondents, up sharply from last year's 39%. Fewer respondents are using software to manage order management (48%, down from 64%) and vendor/supplier collaboration (38%, down from 50%).
As companies plan to buy or upgrade their supply chain management software applications, they're aiming primarily for improved inventory visibility (50%) and demand planning (50%). Pending initiatives in procurement, (44%), order management (42%) and supplier/vendor collaboration (34%) are relatively unchanged. The percentage of respondents planning to upgrade an existing system of any kind also remains at 38%.
A new category this year, fleet management software is at work for one in 10 respondents. Labor management saw a 6% jump to 27%, and those with software that enables new picking solutions like light-directed, voice and goods-to-person nearly doubled to 26%. The popularity of supply chain management and planning software, like supply chain planning (SCP) and demand planning, is also up 11% to 42%.
The momentum of labor management and picking solutions looks set to continue among companies planning to evaluate, purchase or upgrade software in the next two years. Respondents are targeting warehouse management software (38%, up from 29%), picking software (29%, up from 18%), warehouse control systems (22%, up from 16%) and labor management (21%, up from 16%).
The adoption of engineered labor standards (ELS) increased among this year's group, from 40% to 44% currently using ELS. However, far fewer respondents have interest or plan to implement engineered labor standards in the future. Last year, a full quarter of those surveyed reported that they use or plan to use ELS, but now only 12% are in the market, and 44% expressed no interest at all.
Challenges
Our survey asked readers about the challenges they have experienced or might anticipate when adopting or implementing materials handling software applications.
Despite the caution indicated elsewhere in the survey, respondents' concerns in general are down. Readers are less concerned with corporate management approval (-7%) compatibility with host or legacy systems (-6%), a lack of resources to manage and maintain (-7%), user acceptance (-7%), integration with existing software (-5%), funding (-4%) and substantiating ROI (-4%).
Concerns over a new system's ability to integrate with existing systems have held at lower levels, at about 41%, and worries over user acceptance saw a slight uptick to 30%. Total cost of ownership continued a seesaw pattern ranging from 43% to 33% of respondents concerned, settling this year on the less challenging side.
Hill breaks the challenges cited into three general areas: implementation, financial and performance.
"The numbers for implementation are still too high, and too many respondents are mentioning system performance and support issues, which have held steady in this survey since 2011," Hill says. "There are no shortcuts to success for any of these systems. With a solid roadmap, rigorous planning, specification development, performance metrics, reference checks and a fully on-boarded workforce, the majority of users are making it happen."
Modern's annual Software Usage Study collected responses from 192 qualified individuals. To qualify, respondents must be personally involved in using, evaluating or purchasing software for their company's materials handling operations.
This year's respondents reflect management at all levels across both manufacturing and non-manufacturing vertical industries. Upper level management, meaning vice presidents, general managers and division managers, accounts for 30%, while 48% are responsible for managing their company's logistics distribution, warehouse, supply chain, operations or purchasing functions.
A number of vertical markets were represented, including food and beverage (14%), computers and electronics (7.6%), chemicals and pharmaceuticals (6.4%), automotive and transportation (5.7%), and industrial machinery (3.2%). On the non-manufacturing side, wholesale trade (11.5%), transportation/warehousing services (7%), retail trade (5.1%) and third-party logistics providers (3.2%) were among the respondents.
Last year, 16.7% of the companies reported annual revenue of more than $1 billion. This year it's 26%, roughly the same amount who reported revenues less than $10 million. The median revenue for 2015 is $89.5, up from $81.8 million in 2014 and $70 million in 2013. The upward tick in median revenue represents the fact that more medium- and large-sized companies responded to the survey.
About the Author
Josh Bond is a contributing editor to Modern. In addition to working on Modern's annual Casebook and being a member of the Show Daily team, Josh covers lift trucks for the magazine.
Recent Entries