Our Certified, pre-owned lift trucks, backed by the best warranty in the industry, are engineered to live up to the toughest application demands – yours. Here are just a few special offers on Raymond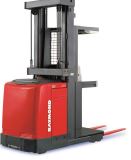 RENEWED™ lift trucks now in stock to purchase or lease.
RENEWED HD 261-OPC30TT 2015 Special
Don't see what you're looking for?  Contact us today and select from our complete fleet of productive and efficient pre-owned lift trucks that will fit your budget.